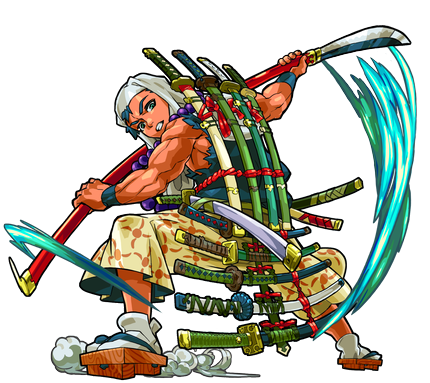 JP Name
-
JP #
1346
Class
Samurai
Element
Gender
-
Rarity
-

Sling
Pierce
Max Luck
90
Type
Balanced
Rating
-
Ability
Mine Sweeper
Gauge
-
HP
13202 (+2460) = 15662
Obtain
-
ATK
17331 (+1700) = 19031
SPD
233.67 (+22.95) = 256.62
Luck Skill
-
Badge
Strike Shot
Sword Hunter - 16 Turns
Bashes the first contacted enemy.
Bump Combo
Ex Laser M (4735)
Attacks in an X pattern with 4 medium-sized elemental lasers.

To Evo

1 Divine Sharl
5 Green Sharls
10 Green Stoans
30 Maxstoans

To Asc

Taira no Kiyomori (2)
Fallen Samurai (3)
Recommended Form - Ascension
Mighty Monk Benkei (Evolution)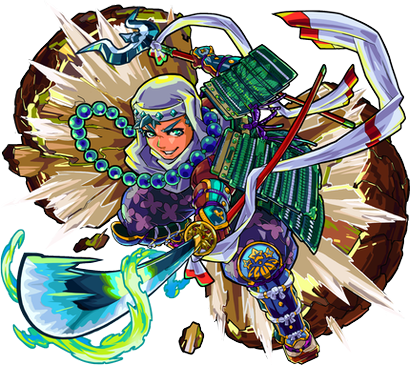 JP Name
-
JP #
1347
Class
Samurai
Element
Gender
-
Rarity
-

Sling
Pierce
Max Luck
99
Type
Balanced
Rating
-
Ability
Mine Sweeper
Gauge
Null Gravity Barrier
HP
18540 (+3900) = 22440
Obtain
-
ATK
20471 (+3000) = 23471 (28165 w/ Gauge)
SPD
289.10 (+44.20) = 333.3
Luck Skill
Badge
Strike Shot
Benkei's Weak Point - 16 Turns
Bashes the first contacted enemy and sends it flying.
Bump Combo
Ex Laser L (6187)
Attacks in an X pattern with 4 large elemental lasers.

To Asc

Taira no Kiyomori (1)
Fallen Samurai (2)
Strengths
Double Null Abilities for high versatility
Pierce Sling works well in sweeping Mines
Weakness
Low SPD for a Pierce monster
Bump Combo deals relatively low damage
Ableberries
Class Kinstrength - Increases his ATK stat to over 30000
Class Kinspeed - Helps him sweep more Mines
Viable Quests

Impossibles/Colossals: Nirai Kanai


Fire:


Water: Lobstar | Michelangelo | Marie Antoinette


Wood: Gigamantis


Light: Vishnu | Cardinal Richelieu


Dark: Typera

Tower: 32F

Temple: Water (Time) | Water (Carnage) | Wood (Carnage) | Light (Time) | Dark (Carnage)
Loyal Soldier Benkei (Ascension)
JP Name
-
JP #
1348
Class
Samurai
Element
Gender
-
Rarity
-

Sling
Bounce
Max Luck
99
Type
Balanced
Rating
-
Ability
Mine Sweeper
Gauge
Null Warp
HP
19256 (+4200) = 23456
Obtain
-
ATK
19581 (+2850) = 22431 (26917 w/ Gauge)
SPD
318.00 (+48.45) = 366.45
Luck Skill
Badge
Strike Shot
Benkei's Dilemma - 22 Turns
Increases Strength on each wall rebound.
Bump Combo
Ex Laser L (6187)
Attacks in a cross pattern with large elemental lasers.

Sub Bump

To Evo

15 Green Sharls
30 Green Stoans
90 Maxstoans
Strengths
Double Null Abilities for high versatility
SS can deal a lot of damage
Weakness
Bump Combo deals relatively low damage
Ableberries
Class Kinstrength - Increases his SS damage
Class Kinvigor - Increases HP for Daikokuten (a No-Heart Dungeon)
Viable Quests

Impossibles/Colossals: Daikokuten | Doom


Fire:


Water: Schubert | ZENIGATA | Ra x 6th Angel | First Empress | Kay | Koalius | Alien Baltan | Godzilla x Eva-13 | Princess Iron Fan | Younger Toguro | Jabberwock


Wood: Green Goblin


Light: Vishnu | Hakwa | Light Noel | Utagawara Senko


Dark: Satellite | Necalli | Pope Saga | Honda Tadakatsu | Karasu

Tower: 39F

Temple: Water (Time) | Water (Carnage) | Wood (Time) | Wood (Carnage) | Light (Time)
Ad blocker interference detected!
Wikia is a free-to-use site that makes money from advertising. We have a modified experience for viewers using ad blockers

Wikia is not accessible if you've made further modifications. Remove the custom ad blocker rule(s) and the page will load as expected.