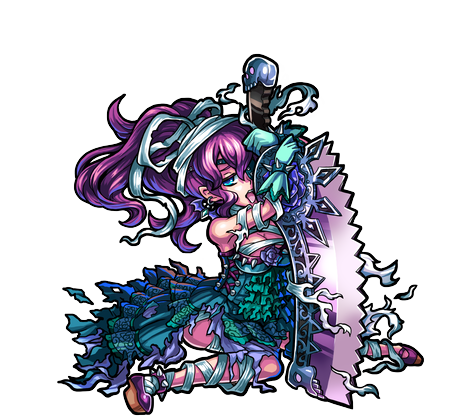 JP Name
-
JP #
884
Class
Demon
Element
Gender
-
Rarity
-

Sling
Bounce
Max Luck
72
Type
Balanced
Rating
-
Ability
Sprite Slayer
Gauge
-
HP
6463 (+1400) = 7863
Obtain
-
ATK
3766 (+650) = 4416
SPD
237.23 (+22.95) = 260
Luck Skill
-
Badge
Strike Shot
Saw Wave - 16 Turns
Strikes the first contacted enemy and attacks with a horror beam.
Bump Combo
Homing Shot 8 (2583)
Randomly targets foes foes with 8 elemental shots.

To Evo

1 Dark Sharl
5 Dark Stoans
10 Maxstoans
30 Stoans

Material For

Cleopatra
Jack
Dracula
Mummy the Murderous (Evolution)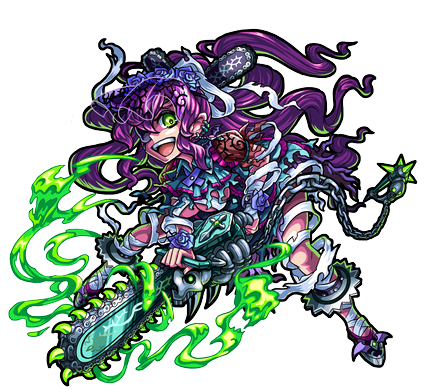 JP Name
-
JP #
885
Class
Demon
Element
Gender
-
Rarity
-

Sling
Bounce
Max Luck
90
Type
Balanced
Rating
-
Ability
Sprite Slayer M
Gauge
-
HP
11200 (+2460) = 13660
Obtain
-
ATK
11900 (+4050) = 15950
SPD
275.13 (+96.9) = 372
Luck Skill
-
Badge
Strike Shot
Chain Saw Massacre - 16 Turns
Strikes the first contacted enemy and attacks with a horror beam.
Bump Combo
Homing Shot 12 (3075)
Randomly targets foes with 12 elemental shots.
Strengths
Weakness
Viable Quests

Impossibles/Colossals:


Fire:


Water:


Wood:


Light:


Dark:

Tower:

Temple:
Ad blocker interference detected!
Wikia is a free-to-use site that makes money from advertising. We have a modified experience for viewers using ad blockers

Wikia is not accessible if you've made further modifications. Remove the custom ad blocker rule(s) and the page will load as expected.