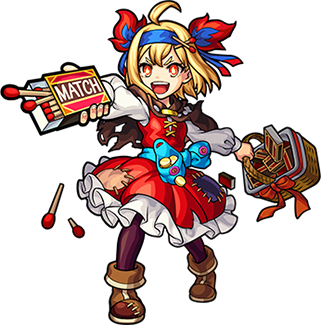 JP Name
-
JP #
2404
Class
Demihume
Element
Gender
-
Rarity
-

Sling
Bounce
Max Luck
90
Type
Balanced
Rating
-
Ability
Null Warp
Gauge
-
HP
11747 (+2460) = 14207
Obtain
-
ATK
16659 (+1625) = 18284
SPD
264.30 (+26.35) = 290.65
Luck Skill
-
Badge
Strike Shot
Burning Red Matchbox - 12 Turns
Increases Speed.
Bump Combo
Flame (3868)
Attacks the nearest enemies with a wide, non-elemental strike.

To Evo

1 Divine Sharl
5 Red Sharls
10 Red Stoans
30 Maxstoans

To Asc

Hotpot (2)
LionDance (2)
Feisha (1)
Recommended Form - Ascension
More powerful Bump Combo
Null Block more useful than Vivolith Slayer
Burning Match May (Evolution)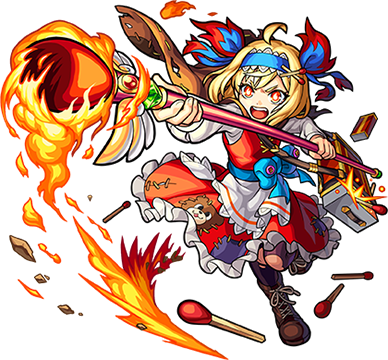 JP Name
-
JP #
2405
Class
Demihume
Element
Gender
-
Rarity
-

Sling
Bounce
Max Luck
99
Type
Blast
Rating
-
Ability
Vivolith Slayer M
Gauge
Null Warp
HP
17280 (+3900) = 21180
Obtain
-
ATK
18563 (+2700) = 21263 (25515 w/ Gauge)
SPD
296.3 (+44.2) = 340.5
Luck Skill
Badge
Strike Shot
Lighting the Match - 18 Turns
Greatly increases Speed and Strength and does a lot of damage to Drones.
Bump Combo
Flame (7734)
Attacks the nearest enemies with a wide, non-elemental strike.

To Asc

Hotpot (1)
LionDance (1)
Feisha (1)
Strengths
Weakness
Not many Vivolith enemies
Needs to be close to enemies for Bump Combo to hit
Ableberries
Class Kinstrength - Increases damage towards Vivolith enemies
Sidekick - Increases her Blast Type Flame that procs Slayer
Viable Quests

Impossibles/Colossals: Izanagi | Izanagi: Zero | Kushinada: Zero


Fire: Captain Mica


Water:


Wood: Bell Joya 108


Light: Emerald Dragon | Marshal Titanium


Dark:

Tower:

Temple: Wood (Time) | Wood (Carnage)
Fiery Dreamer May (Ascension)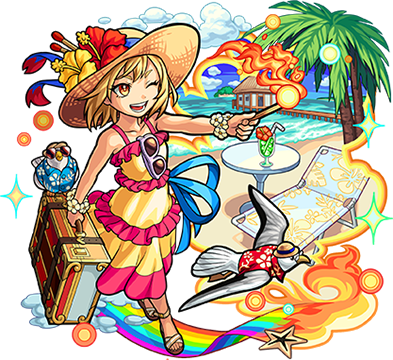 JP Name
-
JP #
2406
Class
Demihume
Element
Gender
-
Rarity
-

Sling
Pierce
Max Luck
99
Type
Balanced
Rating
-
Ability
Null Warp
Gauge
Null Block
HP
17829 (+4200) = 22029
Obtain
-
ATK
19811 (+2900) = 22711 (27253 w/ Gauge)
SPD
273.47 (+41.65) = 315.12
Luck Skill
Badge
Strike Shot
Magic Match Dream Tour - 22 Turns
Rigs the first contacted enemy with a bomb whose explosive power increases with the number of hits.
Bump Combo
Rebound Ex Laser L (2486)
Attacks in an X pattern with 4 large elemental lasers that rebound three times.

Sub Bump

To Evo

15 Red Sharls
30 Red Stoans
90 Maxstoans
Strengths
Bump Combo can produce at lot of Hits for her SS
Weakness
Useless against enemies with Laser Barriers
Ableberries
Class Kinstrength - Increases normal attack damage
Sidekick - Increases Bump Combo damage to mob clear more effectively
Viable Quests

Impossibles/Colossals: Kushinada | Kushinada: Zero | Izanagi


Fire:


Water:


Wood: Snowman | Diaochan | Tokugawa Yoshinobu


Light:


Dark:

Tower:

Temple: Wood (Time) | Wood (Carnage)
Fantasia 4 Series

Hatcher Monsters

May

Oz

Hansel & Gretel
Drop Monsters

Fortuna

Hotpot

LionDance

Feisha
[Lethal] Guide
[Extreme] Guide
[Extreme] Guide
[Savage] Guide
Ad blocker interference detected!
Wikia is a free-to-use site that makes money from advertising. We have a modified experience for viewers using ad blockers

Wikia is not accessible if you've made further modifications. Remove the custom ad blocker rule(s) and the page will load as expected.