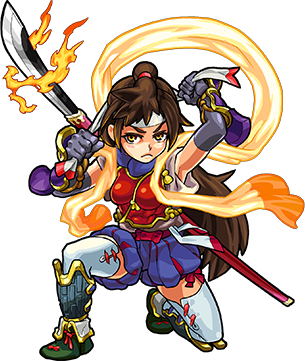 JP Name
-
JP #
2367
Class
Samurai
Element
Gender
-
Rarity
-

Sling
Pierce
Max Luck
90
Type
Speed
Rating
-
Ability
Null Warp
Gauge
-
HP
13978 (+2460) = 16438
Obtain
-
ATK
13515 (+1300) = 14815
SPD
289.9 (+28.9) = 318.8
Luck Skill
-
Badge
Strike Shot
Polearm Prowess - 12 Turns
Increases Speed.
Bump Combo
Rebound Laser M3 (1353)
Attacks with a medium-sized elemental laser that rebounds three times.

To Evo

1 Divine Sharl
5 Red Sharls
10 Red Stoans
30 Maxstoans

To Asc

Senko Serenader (2)
Cleaning Commando (2)
Bucky Noodle (1)
Recommended Form - Ascension
Two Null Abilities for high versatility
Powerful Wall Bouncing SS
Polearm Master Magma (Evolution)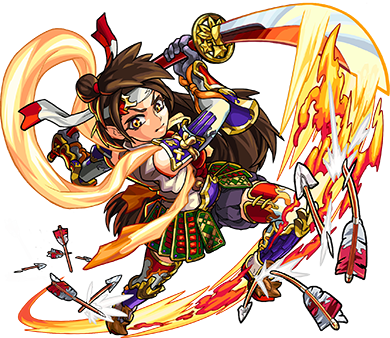 JP Name
-
JP #
2368
Class
Samurai
Element
Gender
-
Rarity
-

Sling
Pierce
Max Luck
99
Type
Speed
Rating
-
Ability
Null Warp
Gauge
Status Recovery
HP
17267 (+3900) = 21167
Obtain
-
ATK
17867 (+2600) = 20467 (24560 w/ Gauge)
SPD
373.6 (+56.1) = 429.7
Luck Skill
Badge
Strike Shot
Warrior Weapon Dance - 12 Turns
Neutralizes damage walls, barriers, warps, and mines.
Bump Combo
Rebound Laser L4 (3480)
Attacks with a massive elemental laser that rebounds four times.

To Asc

Senko Serenader (1)
Cleaning Commando (1)
Bucky Noodle (1)
Strengths
12 Turn All Null SS that can be used multiple times
Weakness
SS only for utility and not damage
Ableberries
Class Kinstrength - Increases normal and SS damage
Cutthroat - Useful against high HP Bosses
Viable Quests

Impossibles/Colossals: Izanagi | Izanagi: Zero | Kushinada: Zero


Fire:


Water:


Wood: Jiraiya | Issun | Diaochan | Kevin Verdure


Light:


Dark:

Tower:

Temple: Wood (Time) | Wood (Carnage)
Devoted Defender Magma (Ascension)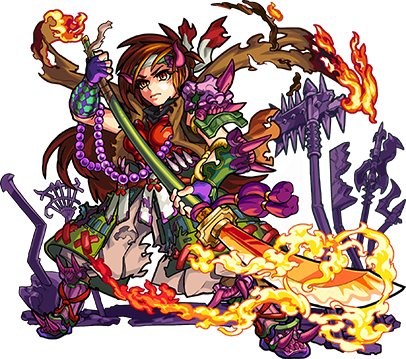 JP Name
-
JP #
2369
Class
Samurai
Element
Gender
-
Rarity
-

Sling
Bounce
Max Luck
99
Type
Balanced
Rating
-
Ability
Null Damage Wall
Gauge
Null Warp
HP
19345 (+4200) = 23545
Obtain
-
ATK
22005 (+3225) = 25230 (30276 w/ Gauge)
SPD
277.73 (+41.65) = 319.38
Luck Skill
Badge
Strike Shot
Reflect to Submission - 22 Turns
Uses mech power to increase Strength on each wall rebound.
Bump Combo
Short Spread 9 (4097)
Fires nine 16-way sprays of elemental bullets.

Sub Bump

To Evo

15 Red Sharls
30 Red Stoans
90 Maxstoans
Strengths
Two Null Abilities
Powerful Wall Bouncing SS
Weakness
Ableberries
Class Kinstrength - Increases SS damage
Class Kinspeed - Gives more SPD for her SS
Viable Quests

Impossibles/Colossals: Izanagi | Izanagi: Zero | Akasha


Fire: Merry


Water:


Wood: Issun | Gigabeast Fighters | Siren | Medusa | Snowman | Bell Joya 108 | Jiraiya | Dullahan


Light: Fenrir | Hikaru Genji | Zashiki Warashi


Dark:

Tower: 26F | 34F | 37F

Temple: Wood (Time) | Wood (Carnage) | Dark (Carnage) | Dark (Time)
Legendary Weapons 2 Series

Hatcher Monsters

Magma

Mjölnir

Chief of Staff
Drop Monsters

Bucky Noodle

Bell Joya 108

Senko Serenader

Cleaning Commando
[Savage] Guide
[Lethal] Guide
[Extreme] Guide
[Extreme] Guide
Ad blocker interference detected!
Wikia is a free-to-use site that makes money from advertising. We have a modified experience for viewers using ad blockers

Wikia is not accessible if you've made further modifications. Remove the custom ad blocker rule(s) and the page will load as expected.