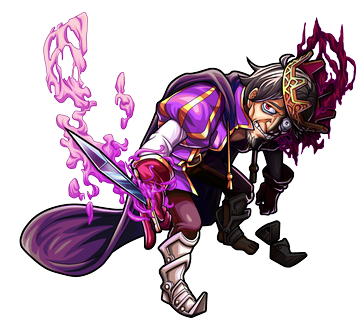 JP Name
-
JP #
997
Class
Demihume
Element
Gender
-
Rarity
-

Sling
Bounce
Max Luck
72
Type
Balanced
Rating
-
Ability
Null Warp
Gauge
-
HP
7035 (+1400) = 8435
Obtain
-
ATK
7615 (+725) = 8340
SPD
252.77 (+25.50) = 278.27
Luck Skill
-
Badge
Strike Shot
Flash of Darkness - 12 Turns
Increases Speed.
Bump Combo
Spread Shot L2 (1722)
Fires two 16-way sprays of large elemental bullets.

To Evo

1 Dark Sharl
5 Dark Stoans
10 Maxstoans
30 Stoans

Material For

Nero
Deranged King Macbeth (Evolution)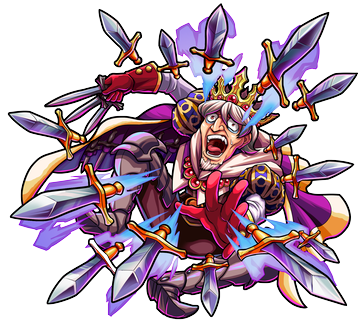 JP Name
-
JP #
998
Class
Demihume
Element
Gender
-
Rarity
-

Sling
Bounce
Max Luck
90
Type
Balanced
Rating
-
Ability
Null Warp
Gauge
-
HP
12286 (+2460) = 14746
Obtain
-
ATK
11156 (+3800) = 14956
SPD
241.40 (+85.00) = 326.40
Luck Skill
-
Badge
Strike Shot
Regicide Sword - 20 Turns
On each enemy rebound, attacks outward with blades of darkness.
Bump Combo
Spread Piercer XL3 (2009)
Fires three 16-way sprays of massive elemental pass-through shots.
Strengths
SS can be used for mob clearing
Weakness
Nothing special in his Abilities and Bump Combo
Eternal Epic Series

Hatcher Monsters

Gilgamesh

Beowulf

Cú Chulainn

Enkidu

Siegfried
Drop Monsters

Pizarro

Marie Antoinette

Attila

Nero

Macbeth
[Savage] Guide
[Extreme] Guide
[Savage] Guide
[Extreme] Guide
[Savage] Guide
Ad blocker interference detected!
Wikia is a free-to-use site that makes money from advertising. We have a modified experience for viewers using ad blockers

Wikia is not accessible if you've made further modifications. Remove the custom ad blocker rule(s) and the page will load as expected.