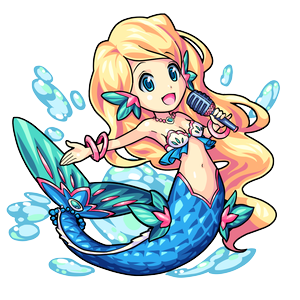 JP Name
マーメイド・ローレライ
JP #
462
Class
Demihume
Element
Gender
Female
Rarity
5★

Sling
Pierce
Max Luck
90
Type
Blast
Rating
-
Ability
Null Warp
Gauge
-
HP
11566 (+2460) = 14026
Obtain
Hatcher
ATK
11365 (+2200) = 13565
SPD
209.17 (+41.65) = 250.82
Luck Skill
-
Badge
Strike Shot
Cerulean Heartbeat - 26 Turns
Drowns enemies on contact in mermaid's tears.
Bump Combo
Homing Piercer 6 (2432)
Randomly targets foes with 6 elemental pass-through shots.

To Evo

1 Divine Sharl
5 Blue Sharls
10 Blue Stoans
30 Maxstoans

To Asc

Lilith (3)
Medusa (2)
Recommended Form - Ascension
Extra Mine Sweeper Ability
More powerful Bump Combo
Merprincess Loreley (Evolution)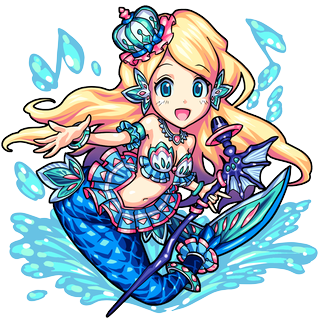 JP Name
青海の歌姫ローレライ
JP #
463
Class
Demihume
Element
Gender
Female
Rarity
6★

Sling
Pierce
Max Luck
99
Type
Blast
Rating
7.5
Ability
Null Warp / Null Block
Gauge
-
HP
18286 (+3900) = 22186
Obtain
Evolution
ATK
17820 (+3475) = 21295
SPD
231.77 (+46.75) = 278.52
Luck Skill
Badge
Strike Shot
Sweet Candy Lane - 30 turns
Regales enemies on contact with the mermaid's song.
Bump Combo
Homing Pierce-struction 8 (4684)
Randomly targets foes with 8 powerful elemental pass-through shots.

To Asc

Lilith (2)
Medusa (1)
Strengths
Meteor SS great for mob clearing
Blast Type Bump Combo for mob clearing
Weakness
Hard to hit enemies during SS due to low SPD
Ableberries
Sidekick - Increases Bump Combo damage
Class Kinspeed - Covers her low SPD
Viable Quests

Impossibles/Colossals: Izanami: Kai | Arcadia | Tsukuyomi: Zero | Izanagi | Akasha


Fire: Captain Mica | Fenrir X | Leopoint | Fire Noel | Shen Gongbao


Water: Koalius


Wood:


Light: Typhon | Pine | Hikaru Genji


Dark: Vanilla the Witch | Lady Rokujo

Tower:

Temple: Water (Time) | Water (Carnage)

Legendary Princess Lorelei (Ascension)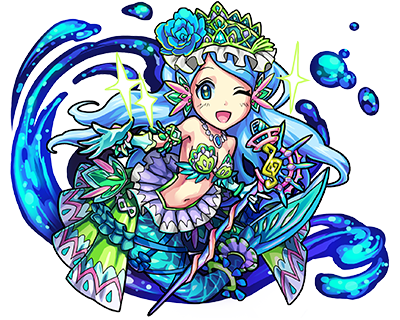 JP Name
伝説の人魚姫ローレライ
JP #
951
Class
Demihume
Element
Gender
Female
Rarity
6★

Sling
Pierce
Max Luck
99
Type
Blast
Rating
8.0
Ability
Mine Sweeper
Gauge
Null Warp
HP
16547 (+4200) = 20747
Obtain
Ascension
ATK
14971 (+2175) = 17146 (20575 w/ Gauge)
SPD
251.70 (+38.25) = 289.95
Luck Skill
Badge
Strike Shot
Mermaid's Song - 30 turns
Regales enemies on contact with the mermaid's song.
Bump Combo
Homing Pierce-struction 12 (4684)
Randomly targets foes with 12 powerful elemental pass-through shots.

Sub Bump

Cross Laser S (3788)

Attacks in a cross pattern with small elemental lasers.

To Evo

15 Blue Sharls
30 Blue Stoans
90 Maxstoans
Strengths
Powerful Bump Combo for mob clearing and damage
Two Null Abilities
Meteor SS great for mob clearing and synergizes with Pierce Sling
Weakness
Low stats
Need multiple Loreley in a team to reach optimal effectiveness
Suggested Ableberries
Sidekick - Increases Bump Combo damage
Survivor - Mitigates damage from enemies
Genius - Useful during Normal Dungeons
Viable Quests

Impossibles/Colossals: Izanami | Daikokuten | Izanami: Zero


Fire: Surtr | Hydra | Rakshasa | Shen Gongbao | Zetton | Fenrir X | Grey Alien | Leopoint | Daisy


Water: ZENIGATA | First Empress


Wood:


Light: Typhon


Dark: Yeti | Princess Takiyasha | Darkblade Murasame | Space Whale Geppetto | Satellite | Drillmax

Tower:

Temple: Fire (Time) | Fire (Carnage) | Water (Time) | Water (Carnage) | Light (Time) | Dark (Carnage)

Faereie Tale Fantasia Series

Hatcher Monsters

Red-Hood Red-Hood Nonno

Loreley the Mermaid

Spearmint Boots

Beast

Hamelin
Drop Monsters

Momotaro

Urashima

Issun

Tanuki

Kaguya
[Extreme] Guide
[Savage] Guide
[Extreme] Guide
[Savage] Guide
[Savage] Guide
Ad blocker interference detected!
Wikia is a free-to-use site that makes money from advertising. We have a modified experience for viewers using ad blockers

Wikia is not accessible if you've made further modifications. Remove the custom ad blocker rule(s) and the page will load as expected.