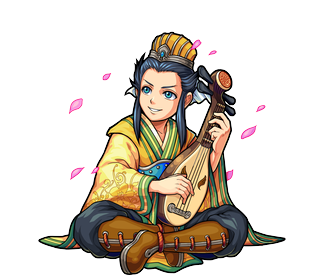 JP Name
-
JP #
1047
Class
Samurai
Element
Gender
-
Rarity
-

Sling
Bounce
Max Luck
90
Type
Balanced
Rating
-
Ability
Null Warp
Gauge
HP
10996 (+2460) = 13456
Obtain
-
ATK
15715 (+1550) = 17265
SPD
216.43 (+21.25) = 237.68
Luck Skill
-
Badge
Strike Shot
Virtuous Rendition - 24 Turns
Leads teammates against the enemy.
Bump Combo
Homing Shot 12 (3075)
Randomly targets foes with 12 elemental shots.

To Evo

1 Divine Sharl
5 Light Sharls
10 Light Stoans
30 Maxstoans

To Asc

Dong Zhuo (3)
Dancing Mask (3)
Ceremonial Tiger (1)
Recommended Form - Ascension
Peaceful Bard Liu Bei (Evolution)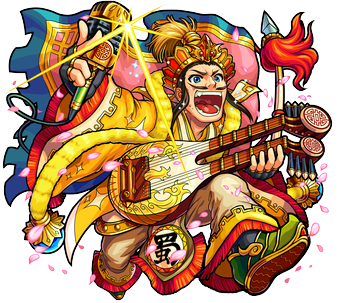 JP Name
-
JP #
1048
Class
Samurai
Element
Gender
-
Rarity
-

Sling
Pierce
Max Luck
99
Type
Speed
Rating
-
Ability
Null Warp
Gauge
Status Recovery
HP
16608 (+3900) = 20508
Obtain
-
ATK
18458 (+2700) = 21158 (25389 w/ Gauge)
SPD
344.20 (+51.85) = 396.05
Luck Skill
Badge
Strike Shot
Shu Han Recital - 21 Turns
Deals a ton of damage on contact with enemy weak point.
Bump Combo
Homing Shot 18 (3294)
Randomly targets foes with 18 elemental shots.

To Asc

Dong Zhuo (2)
Dancing Mask (2)
Ceremonial Tiger (1)
Strengths
Status Recovery can heal debuffs from allies
SS synergizes well with Sling
Weakness
Only one Null Ability
Usefulness for Status Recovery is limited
Ableberries
Survivor - Mitigates damage from enemies
Class Kinvigor - Covers his low HP
Viable Quests

Impossibles/Colossals: Kushinada: Zero


Fire:


Water:


Wood: Medusa


Light: Zashiki Warashi


Dark: Bull Demon King | Venom

Tower:

Temple: Water (Time) | Water (Carnage) | Wood (Time) | Wood (Carnage)
Liu Bei the Vengeful (Ascension)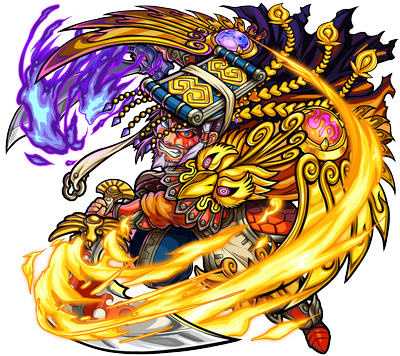 JP Name
-
JP #
1049
Class
Samurai
Element
Gender
-
Rarity
-

Sling
Bounce
Max Luck
99
Type
Balanced
Rating
-
Ability
Null Warp
Gauge
Null Gravity Barrier
HP
17568 (+4200) = 21768
Obtain
-
ATK
21744 (+3175) = 24919 (29902 w/ Gauge)
SPD
245.80 (+37.40) = 283.20
Luck Skill
Badge
Strike Shot
Exquisite Justice - 26 Turns
Leads teammates against the enemy.
Bump Combo
Homing Shot 18 (3294)
Randomly targets foes with 18 elemental shots.

Sub Bump

To Evo

15 Light Sharls
30 Light Stoans
90 Maxstoans
Strengths
Two Null Abilities
Command SS can mob clear and deal Boss damage
Weakness
Hard to hit all allies for SS due to low SPD
Low Bump Combo damage
Ableberries
Class Kinstrength - Increases SS damage
Survivor - Mitigates damage from enemies
Strike Haste - Shortens his relatively long Command SS
Viable Quests

Impossibles/Colossals: Izanami | Tsukuyomi |Izanagi | Kushinada | Izanagi: Zero | Nirvana | Karma


Fire: Hydra | Momotaro


Water: ZENIGATA | First Empress | Schubert


Wood: Zhang Jiao | Medusa | Issun | Fellmane


Light: Behemoth | Fenrir | Gemini Saga


Dark: Darkblade Murasame | Vanilla the Witch | Deathscoil x 9th Angel | Necalli | Pope Saga | Visceron | Krishna | Venom | Valodica | Genome | Kabushido

Tower: 27F | 30F | 35F

Temple: Water (Time) | Water (Carnage) | Wood (Time) | Wood (Carnage) | Dark (Carnage)
Kindred Kingdom Series

Hatcher Monsters

Zhang Fei

Guan Yu

Ma Chao

Liu Bei

Huang Zhong
Drop Monsters

Dancing Mask

Death Panda

Zhang Jiao

Ceremonial Tiger

Dong Zhuo
[Savage] Guide
[Savage] Guide
[Extreme] Guide
[Savage] Guide
[Extreme] Guide
Ad blocker interference detected!
Wikia is a free-to-use site that makes money from advertising. We have a modified experience for viewers using ad blockers

Wikia is not accessible if you've made further modifications. Remove the custom ad blocker rule(s) and the page will load as expected.