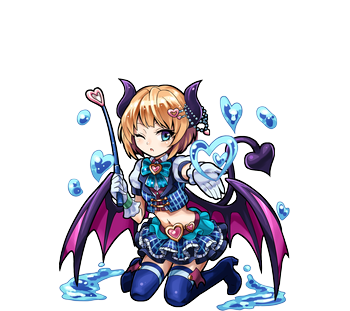 JP Name
-
JP #
635
Class
Demon
Element
Gender
-
Rarity
-

Sling
Bounce
Max Luck
90
Type
Balanced
Rating
-
Ability
Demihume Slayer
Gauge
-
HP
13085 (+0) = 13085
Obtain
-
ATK
14918 (+0) = 14918
SPD
251.8 (+0) = 251.8
Luck Skill
-
Badge
Strike Shot
Ardent Demon - 14 Turns
Bashes the first contacted enemy and attacks with a laser.
Bump Combo
Vertical Laser L (9471)


Attacks upward and downward with 2 large elemental lasers.

To Evo

1 Divine Sharl
5 Blue Sharls
10 Blue Stoans
30 Maxstoans

To Asc

Astaroth (2)
Belial (1)
Mephisto (2)

Material For

Belphegor
Satan
Astaroth
Lorelei
Recommended Form - Evolution
- Has a Null Ability
Lilith the Scamp (Evolution)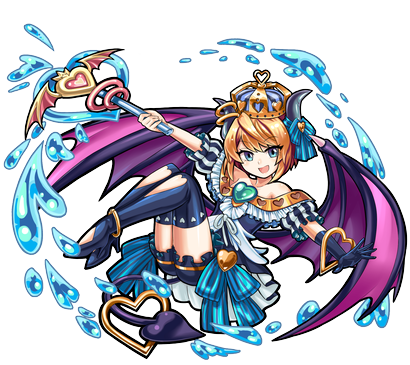 JP Name
-
JP #
636
Class
Demon
Element
Gender
-
Rarity
-

Sling
Bounce
Max Luck
99
Type
Balanced
Rating
-
Ability
Demihume Slayer
Gauge
Null Warp
HP
18710 (+3900) = 22610
Obtain
-
ATK
14867 (+5075) = 19942 (23930 w/Gauge)
SPD
269.2 (+95.2) = 364.4
Luck Skill
Badge
Strike Shot
Fallen Angel's Brand - 30 Turns
Uses sweet temptation to attack all enemies on contact with ice missiles.
Bump Combo
Vertical Laser L (12312)


Attacks upward and downward with 2 large elemental lasers.

To Asc

Astaroth (1)
Belial (1)
Mephisto (1)
Strengths
Effective against Demihume enemies
Meteor SS great for mob clearing
Weakness
Need to position for Bump Combo
Only one Null Ability
Ableberries
Survivor - Mitigates damage from enemies
Class Kinstrength - Increases SS and Slayer damage
Viable Quests

Impossibles/Colossals: Izanagi | Avalon | Izanagi: Zero


Fire: Grey Alien | Zuma | Wyatt Earp | Surtr | Zetton | Shen Gongbao


Water:


Wood:


Light: Orochimaru | Hikaru Genji


Dark: Necalli | Domyoji Anko

Tower:

Temple: Water (Time) | Water (Carnage)
Lilith the Wicked Sage (Ascension)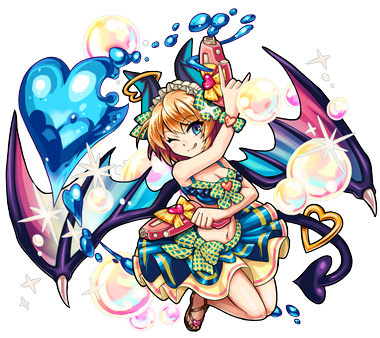 JP Name
-
JP #
637
Class
Demon
Element
Gender
-
Rarity
-

Sling
Bounce
Max Luck
99
Type
Balanced
Rating
-
Ability
Demihume Slayer
Gauge
HP
17762 (+4200) = 21962
Obtain
-
ATK
18417 (+6300) = 24717
SPD
231.07 (+81.6) = 312.67
Luck Skill
Badge
Strike Shot
Judgement Day - 30 Turns
Attacks enemies on contact with a glacial shower.
Bump Combo
Ex Laser L (6187)
Attacks upward and downward with 2 large elemental lasers.

Sub Bump

To Evo

15 Blue Sharls
30 Blue Stoans
90 Maxstoans
Strengths
Effective against Demihume enemies
Meteor SS great for mob clearing and guarantee Sleep
Weakness
No Null Abilities
Low Bump Combo damage
Ableberries
Survivor - Mitigates damage from enemies
Class Kinstrength - Increases SS and Slayer damage
Viable Quests

Impossibles/Colossals:


Fire: Surtr


Water:


Wood:


Light:


Dark:

Tower:

Temple: Water (Time)
Devilish Defenders Series

Hatcher Monsters

Asmodeus

Leviathan

Belphegor

Beelzebub

Satan
Drop Monsters

Astaroth

Lilith

Belial

Mephisto

Samael
[Extreme] Guide
[Extreme] Guide
[Savage] Guide
[Savage] Guide
[Savage] Guide
Ad blocker interference detected!
Wikia is a free-to-use site that makes money from advertising. We have a modified experience for viewers using ad blockers

Wikia is not accessible if you've made further modifications. Remove the custom ad blocker rule(s) and the page will load as expected.