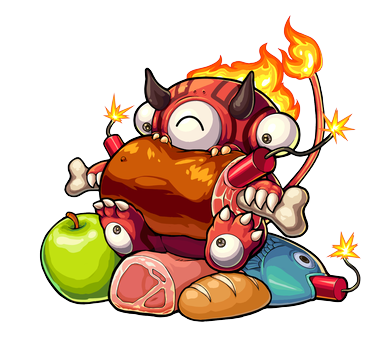 JP Name
-
JP #
1115
Class
Demon
Element
Gender
-
Rarity
-

Sling
Bounce
Max Luck
72
Type
Balanced
Rating
-
Ability
Null Damage Wall
Gauge
-
HP
7565 (+1400) = 8965
Obtain
-
ATK
7000 (+675) = 7675
SPD
186.80 (+18.70) = 205.50
Luck Skill
-
Badge
Strike Shot
Carnivore Carnage - 24 Turns
Sends all enemies flying like crazy on contact.
Bump Combo
Homing Shot 8 (2583)
Randomly targets foes with 8 elemental shots.

To Evo

1 Red Sharl
5 Red Stoans
10 Maxstoans
30 Stoans

Material For

Cait Sith
Poltergeist
Ghoulie
Legion the Hungry (Evolution)
JP Name
-
JP #
1116
Class
Demon
Element
Gender
-
Rarity
-

Sling
Bounce
Max Luck
90
Type
Balanced
Rating
-
Ability
Null Damage Wall
Gauge
HP
13111 (+2460) = 15571
Obtain
-
ATK
12311 (+4200) = 16511
SPD
216.70 (+76.50) = 293.20
Luck Skill
Badge
Strike Shot
Infernal Barbecue - 24 Turns
Sends all enemies flying like crazy on contact.
Bump Combo
Homing Shot 12 (3075)
Randomly targets foes with 12 elemental shots.
Strengths
SS can deal high Boss damage
High stats
Weakness
Spellbound Spirits Series

Hatcher Monsters

Salamander

Undine

Gnome

Sylph

Cait Sith
Drop Monsters

Legion

Lantern Angler

Poltergeist

Ghoulie

Hanged Man
[Savage] Guide
[Savage] Guide
[Extreme] Guide
[Extreme] Guide
[Savage] Guide
Ad blocker interference detected!
Wikia is a free-to-use site that makes money from advertising. We have a modified experience for viewers using ad blockers

Wikia is not accessible if you've made further modifications. Remove the custom ad blocker rule(s) and the page will load as expected.