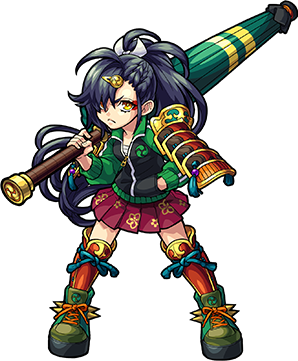 JP Name
-
JP #
2532
Class
Demihume
Element
Gender
-
Rarity
-

Sling
Bounce
Max Luck
90
Type
Balanced
Rating
-
Ability
Mine Sweeper M
Gauge
-
HP
13330 (+2460) = 15790
Obtain
-
ATK
15615 (+1525) = 17140
SPD
198.70 (+19.55) = 218.25
Luck Skill
-
Badge
Strike Shot
王みなぎる闘魂 - 22 Turns
Dizzies foes with speed and cancels projectiles for a set number of turns.
Bump Combo
Rebound Spread XL3 (2009)
Fires three 16-way sprays of massively rebounding elemental shots.

To Evo

1 Divine Sharl
5 Green Sharls
10 Green Stoans
30 Maxstoans

To Asc

Bubble Boy (2)
Sweet Deer (2)
Cream Monster (1)
Lady Tomoe (Evolution)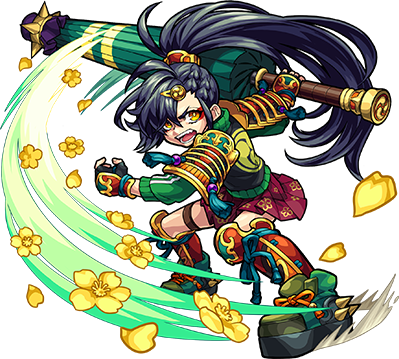 JP Name
-
JP #
2533
Class
Demihume
Element
Gender
-
Rarity
-

Sling
Bounce
Max Luck
99
Type
Balanced
Rating
-
Ability
Mine Sweeper M / Water Slayer
Gauge
Strike Shot Reducer
HP
19026 (+3900) = 22926
Obtain
-
ATK
22564 (+3300) = 25864 (31037 w/ Gauge)
SPD
259.53 (+39.10) = 298.63
Luck Skill
Badge
Strike Shot
ダイナミック・ツワモノスラッシュ - 28 Turns
Dizzies foes with speed and cancels projectiles for a set number of turns.
Bump Combo
Rebound Spread-struction XL3 (4499)
Fires three 16-way sprays of massively powerful rebounding elemental shots.

To Asc

Bubble Boy (1)
Sweet Deer (1)
Cream Monster (1)
Strengths
Mine Sweeper M + Water Slayer is powerful
SS Reducer and damage cancelling SS synergize well
Weakness
Single Null
Low speed makes her slayer less powerful
No impossible/colossal viability outside of Yamato Takeru: Zero
Ableberries
Class Kinstrength - Increases ATK for her Slayer
Viable Quests

Impossibles/Colossals: Yamato Takeru: Zero


Fire:


Water: Kay | ZENIGATA | Jabberwock | Galaxy Serpent


Wood:


Light:


Dark:

Tower: 22F

Temple: Water (Time) | Water (Carnage)
Lady Tomoe (Ascension)
JP Name
-
JP #
2534
Class
Demihume
Element
Gender
-
Rarity
-

Sling
Bounce
Max Luck
99
Type
Blast
Rating
-
Ability
Null Warp
Gauge
Null Gravity Barrier
HP
15902 (+4200) = 20102
Obtain
-
ATK
17380 (+2525) = 19905 (23886 w/ Gauge)
SPD
273.07 (+40.80) = 313.87
Luck Skill
Badge
Strike Shot
平家上等仏恥義理罵棲汰亜 - 20 Turns
Sends all enemies flying on contact.
Bump Combo
Homing Pierce-struction 8 (4684)
Randomly targets foes with 8 powerful elemental pass-through shots.

Sub Bump

To Evo

15 Green Sharls
30 Green Stoans
90 Maxstoans
Strengths
Powerful bumps
Common double Nulls
All enemy knock-up SS with relatively short cooldown
Weakness
Low HP
SS deals little single target damage
Ableberries
Sidekick - Increases bump combo damage
Viable Quests

Impossibles/Colossals: Kushinada | Yamato Takeru | Tsukuyomi | Lu Bu


Fire:


Water: Kraken | Baal | Schubert | Sima Yi | Louis XIII


Wood:


Light: Signal Man


Dark:

Tower: 22F | 27F | 38F

Temple: Water (Time) | Water (Carnage) | Wood (Time) | Dark (Carnage)
Brave Girls Series

Hatcher Monsters

Elizabeth I

Lady Tomoe

Calamity Jane
Drop Monsters

Cream Monster

Bubble Boy

Sweet Deer

Domyoji Anko
[Savage] Guide
[Extreme] Guide
[Extreme] Guide
[Lethal] Guide
Ad blocker interference detected!
Wikia is a free-to-use site that makes money from advertising. We have a modified experience for viewers using ad blockers

Wikia is not accessible if you've made further modifications. Remove the custom ad blocker rule(s) and the page will load as expected.