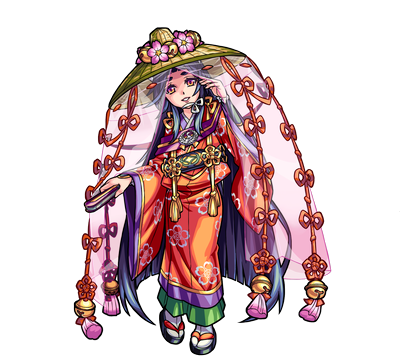 JP Name
-
JP #
1341
Class
Samurai
Element
Gender
-
Rarity
-

Sling
Bounce
Max Luck
90
Type
Balanced
Rating
-
Ability
Null Warp
Gauge
-
HP
11899 (+2460) = 14359
Obtain
-
ATK
12252 (+1200) = 13452
SPD
222.87 (+22.10) = 244.97
Luck Skill
-
Badge
Strike Shot
Dance of Silence - 12 Turns
Increases Speed.
Bump Combo
Ex Laser M (4735)
Attacks in an X pattern with 4 medium-sized elemental lasers.

To Evo

1 Divine Sharl
5 Red Sharls
10 Red Stoans
30 Maxstoans

To Asc

Minamoto no Yoritomo (2)
Taira no Kiyomori (2)
Recommended Form - Evolution
More Null Abilities for versatility
Dancing Maiden Shizuka (Evolution)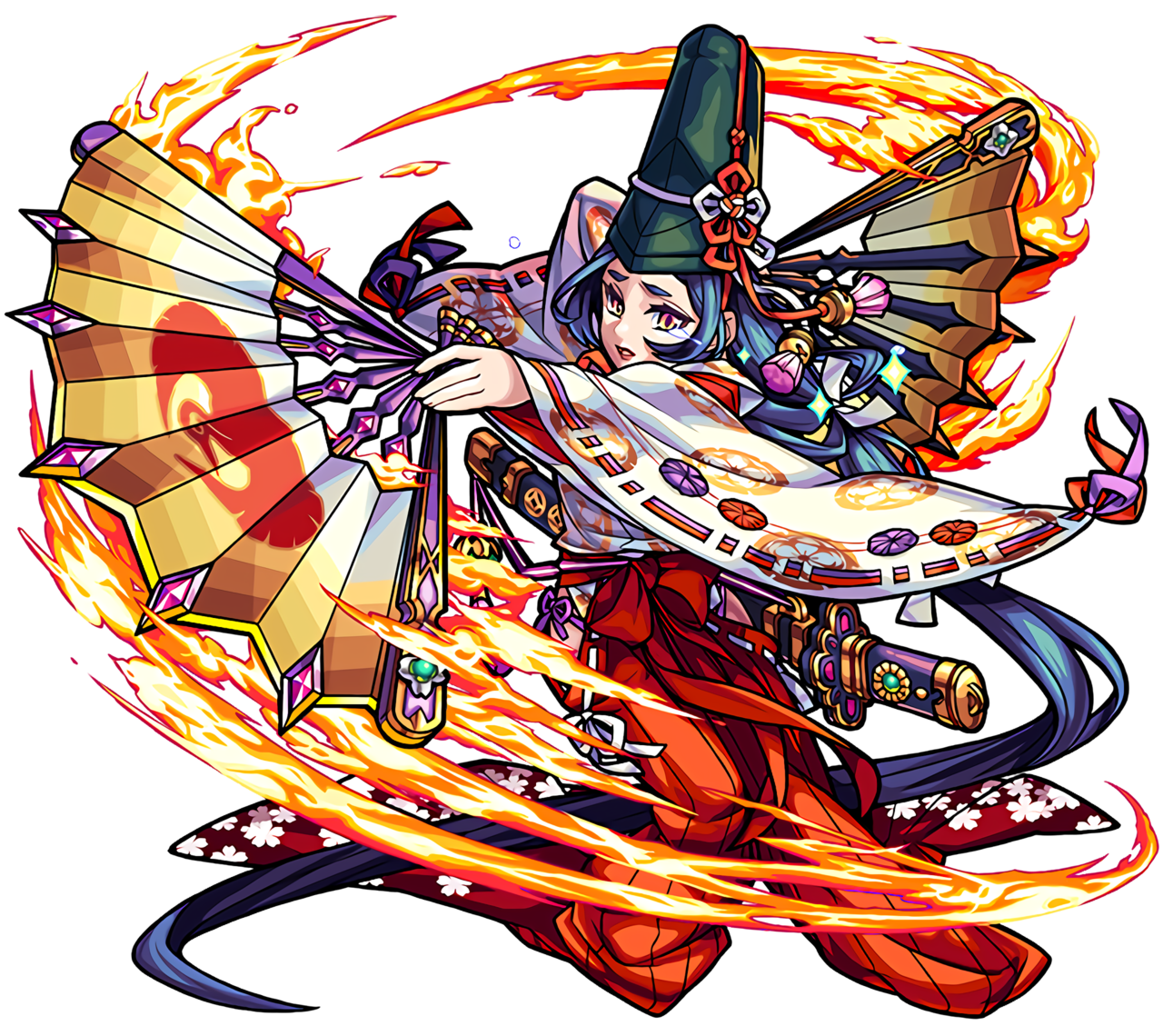 JP Name
-
JP #
1342
Class
Samurai
Element
Gender
-
Rarity
-

Sling
Bounce
Max Luck
99
Type
Balanced
Rating
-
Ability
Null Warp
Gauge
Null Damage Wall
HP
19395 (+3900) = 23295
Obtain
-
ATK
20915 (+3050) = 23965 (28758 w/ Gauge)
SPD
264.47 (+39.95) = 304.42
Luck Skill
Badge
Strike Shot
Dance of the Phoenix - 16 Turns
Sends the first contacted enemy flying and restores HP.
Bump Combo
Ex Laser XL (12313)
Attacks in an X pattern with 4 massive elemental lasers.

To Evo

Minamoto no Yoritomo (1)
Taira no Kiyomori (1)
Strengths
Double Null Abilities for high versatility
SS can be used in case you are in a pinch
Weakness
SS doesn't do a lot of damage
Ableberries
Knockout - Works well with the Bash in her SS
Class Kinstrength - Increases her SS damage
Survivor - Mitigate damage from enemies
Cutthroat - Works well for high HP Bosses like in 37F
Viable Quests

Impossibles/Colossals: Izanagi


Fire: Wyatt Earp


Water:


Wood: Tokugawa Yoshinobu | Jiraiya | Medusa | Siren | Snowman | Cute Rooster Clucky | Dullahan


Light: Yuan Shao


Dark: Bull Demon King

Tower: 26F | 37F

Temple: Wood (Time) | Wood (Carnage) | Light (Carnage) | Dark (Time)
Shizuka the Peerless Dancer (Ascension)
JP Name
-
JP #
1343
Class
Samurai
Element
Gender
-
Rarity
-

Sling
Pierce
Max Luck
99
Type
Balanced
Rating
-
Ability
Demonsbane M
Gauge
Null Damage Wall
HP
17943 (+4200) = 22143
Obtain
-
ATK
19757 (+2875) = 22632 (27159 w/ Gauge)
SPD
284.53 (+42.50) = 327.13
Luck Skill
Badge
Strike Shot
Waxwing Arrow - 18 Turns
Greatly increases Speed and Strength and does a lot of damage to Drones.
Bump Combo
Cross Laser L (6187)
Attacks in a cross pattern with large elemental lasers.

Sub Bump

To Evo

15 Red Sharls
30 Red Stoans
90 Maxstoans
Strengths
Effective against Demon and Mancer monsters and also Pierce to guarantee damage
Weakness
No uses in dungeons with enemies that she doesn't slay
Ableberries
Class Kinstrength - Increases damage towards enemies she slays
Survivor - Mitigate damage from enemies
Cutthorat - Works well in dungeons like Hakwa
Viable Quests

Impossibles/Colossals: Shambhala


Fire:


Water:


Wood: Serket | Tengu | Medusa


Light: Marida of the Lamp | Yuan Shao


Dark:

Tower: 33F

Temple: Wood (Time) | Wood (Carnage) | Light (Carnage) | Dark (Time)
Ad blocker interference detected!
Wikia is a free-to-use site that makes money from advertising. We have a modified experience for viewers using ad blockers

Wikia is not accessible if you've made further modifications. Remove the custom ad blocker rule(s) and the page will load as expected.