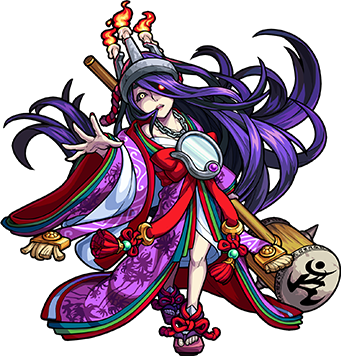 JP Name
-
JP #
2267
Class
Mancer
Element
Gender
-
Rarity
-

Sling
Bounce
Max Luck
90
Type
Balanced
Rating
-
Ability
Null Gravity Barrier
Gauge
-
HP
14667 (+0) = 14667
Obtain
-
ATK
15683 (+0) = 15683
SPD
208.2 (+0) = 208.2
Luck Skill
-
Badge
Strike Shot
Heart of Hatred - 12 Turns
Increases Speed.
Bump Combo
Horizon Laser L (11365)
Attacks left and right with a large elemental laser.

To Evo

1 Divine Sharl
5 Dark Sharls
10 Dark Stoans
30 Maxstoans

Material For

Andersen
Dante
Hikaru Genji
Lady Rokujo the Ogress (Evolution)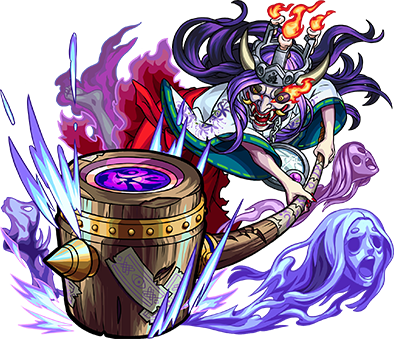 JP Name
-
JP #
2268
Class
Mancer
Element
Gender
-
Rarity
-

Sling
Bounce
Max Luck
99
Type
Balanced
Rating
-
Ability
Null Gravity Barrier
Gauge
Samurai Slayer
HP
16698 (+3900) = 20598
Obtain
-
ATK
15605 (+5325) = 20930 (25116 w/ Gauge)
SPD
222.9 (+79.05) = 301.95
Luck Skill
Badge
Strike Shot
Curse of the Ex - 18 Turns
Passes through enemies while attacking.
Bump Combo
Horizon Laser L (14774)
Attacks left and right with a large elemental laser.
Strengths
Effective against Samurai enemies and SS gives guarantee hits to them
Weakness
Need to position for Bump Combo
Not many Samurai Bosses, especially with GB in their dungeons
Viable Quests

Impossibles/Colossals:


Fire:


Water: Okita Soji


Wood:


Light: Radiant Blade Muramasa | Shadow Blade Muramasa | Minamoto no Yoritomo | Miyabi


Dark:

Tower:

Temple:
Library of Dark Marchen Series

Hatcher Monsters

Andersen

Shakespeare

Dante
Drop Monsters

Judge Rock

Gigabeast Fighters

Hikaru Genji

Lady Rokujo
[Savage] Guide
[Extreme] Guide
[Lethal] Guide
[Extreme] Guide
Ad blocker interference detected!
Wikia is a free-to-use site that makes money from advertising. We have a modified experience for viewers using ad blockers

Wikia is not accessible if you've made further modifications. Remove the custom ad blocker rule(s) and the page will load as expected.