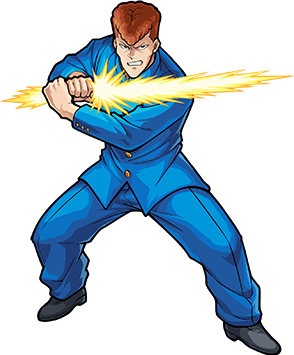 JP Name
桑原和真
JP #
2310
Class
Demihume
Element
Gender
-
Rarity
-

Sling
Bounce
Max Luck
72
Type
Balanced
Rating
-
Ability
Null Gravity Barrier
Gauge
-
HP
10465 (+1400) = 11865
Obtain
-
ATK
10307 (+500) = 10807
SPD
222.43 (+11.05) = 233.48
Luck Skill
-
Badge
Strike Shot
どぅおりゃあああー! - 12 Turns
Increases Speed.
Bump Combo
Lock-on Piercewave 3 (9471)
Attacks foes with 3 non-elemental piercewaves.

To Evo

1 Light Sharl
5 Light Stoans
10 Maxstoans
30 Stoans
Kuwabara Kazuma (Evolution)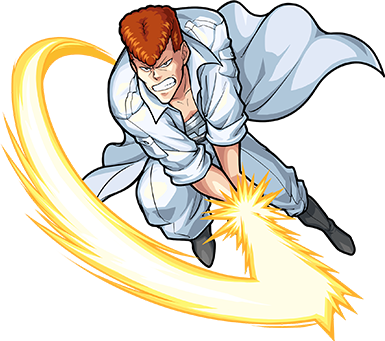 JP Name
霊剣使い 桑原和真
JP #
2311
Class
Demihume
Element
Gender
-
Rarity
-

Sling
Bounce
Max Luck
90
Type
Balanced
Rating
-
Ability
Null Gravity Barrier / Demon Slayer
Gauge
Null Warp
HP
18131 (+2460) = 20591
Obtain
-
ATK
13181 (+1300) = 14481 (17378 w/ Gauge)
SPD
260.87 (+25.50) = 286.37
Luck Skill
Badge
Strike Shot
霊剣 - 24 Turns
Increases Speed and uses Spirit Sword to attack nearby foes.
Bump Combo
Lock-on Piercewave 6 (13259)
Attacks foes with 6 non-elemental piercewaves.
Strengths
Two Null Abilities
Powerful Bump Combo that procs his Slayer
High HP
Weakness
Low damage onto non-Demon enemies
Ad blocker interference detected!
Wikia is a free-to-use site that makes money from advertising. We have a modified experience for viewers using ad blockers

Wikia is not accessible if you've made further modifications. Remove the custom ad blocker rule(s) and the page will load as expected.