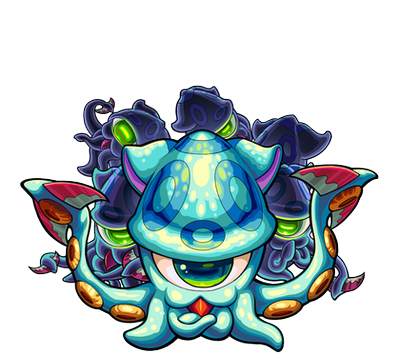 JP Name
-
JP #
1454
Class
Demon
Element
Gender
-
Rarity
-

Sling
Bounce
Max Luck
90
Type
Power
Rating
-
Ability
Mine Sweeper
Gauge
-
HP
15188 (+0) = 15188
Obtain
-
ATK
22707 (+0) = 22707
SPD
159.2 (+0) = 159.2
Luck Skill
-
Badge
Strike Shot
Squid Parade - 12 Turns
Bashes the first contacted enemy and attacks with a laser.
Bump Combo
Homing Shot 12 (2197)
Randomly targets foes with 12 elemental shots.

To Evo

1 Divine Sharl
5 Blue Sharls
10 Blue Stoans
30 Maxstoans

To Asc

Siren (2)
Spriggan (2)
Arachne (1)
Mimic (1)

Material For

Hera
Chronos
Siren
D'Artagnyan
Recommended Form - Either
Evolution has Null Abilities
Ascension does a lot of damage to Fiend Bosses
Sea Ravager Kraken (Evolution)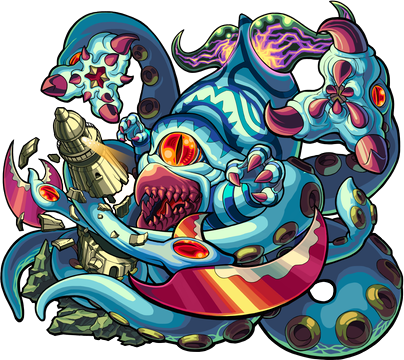 JP Name
-
JP #
1455
Class
Demon
Element
Gender
-
Rarity
-

Sling
Bounce
Max Luck
99
Type
Power
Rating
-
Ability
Mine Sweeper
Gauge
Null Block
HP
19927 (+3900) = 23827
Obtain
-
ATK
21357 (+8625) = 29982 (35979 w/ Gauge)
SPD
159.80 (+56.10) = 215.90
Luck Skill
Badge
Strike Shot
Tentacle Deathscythe - 20 Turns


Explodes on first enemy contact and does a lot of damage to all foes in the vicinity.

Bump Combo
Homing Shot 18 (2353)


Randomly targets foes with 18 elemental shots.

To Asc

Siren (1)
Spriggan (1)
Arachne (1)
Mimic (1)
Strengths
High damaging Explosion SS
Weakness
Low SPD to make use of Mine Sweeper
Ableberries
Class Kinstrength - Increases his SS damage
Viable Quests

Impossibles/Colossals: Arcadia


Fire: Roc | Burst


Water:


Wood:


Light:


Dark:

Tower:

Temple: Fire (Time) | Fire (Carnage) | Water (Time) | Light (Time)
Marine Beastlord Kraken (Ascension)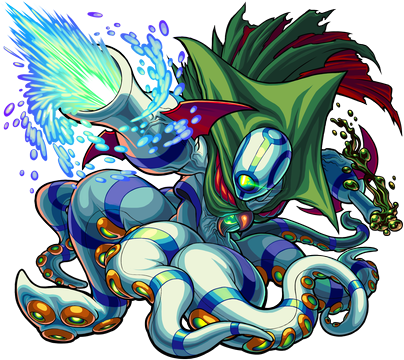 JP Name
-
JP #
1456
Class
Demon
Element
Gender
-
Rarity
-

Sling
Bounce
Max Luck
99
Type
Power
Rating
-
Ability
Fiend Slayer
Gauge
-
HP
20251 (+4200) = 24451
Obtain
-
ATK
23068 (+7950) = 31018
SPD
128.87 (+45.05) = 173.92
Luck Skill
Badge
Strike Shot
Squid-Ink Fusillade - 13 Turns
Bashes the first contacted enemy and attacks with a laser.
Bump Combo
Twin One-way Laser XL (17325)
Attacks upward with two massive elemental lasers.

Sub Bump

To Evo

15 Blue Sharls
30 Blue Stoans
90 Maxstoans
Strengths
Deals a lot of damage to Fiend monsters with Bump Combo
Weakness
Does not have any Null Abilities
Ableberries
Class Kinstrength - Increases damage towards Fiend enemies
Sidekick - Increases the power of his high damaging Bump Combo
Viable Quests

Impossibles/Colossals:


Fire: Zuma | Surtr


Water: Dracula


Wood:


Light:


Dark: Zero

Tower:

Temple: Water (Time) | Dark (Time) | Dark (Carnage)
Ad blocker interference detected!
Wikia is a free-to-use site that makes money from advertising. We have a modified experience for viewers using ad blockers

Wikia is not accessible if you've made further modifications. Remove the custom ad blocker rule(s) and the page will load as expected.