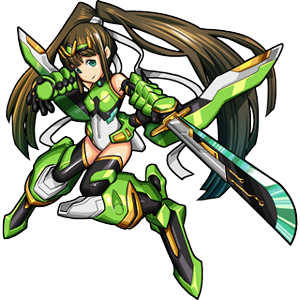 JP Name
草薙 フウカ
JP #
328
Class
Mech
Element
Gender
Female
Rarity
4★

Sling
Bounce
Max Luck
72
Type
Speed
Rating
Ability
Flight / Null Gravity Barrier
Gauge
-
HP
6403 (+1400) = 7803
Obtain
Hatcher
ATK
8437 (+1280) = 9717
SPD
327.43 (+33.32) = 360.75
Luck Skill
-
Badge
Strike Shot
Earth Gate - 13 Turns
Uses earth weaponry to greatly increase Speed and Strength.
Bump Combo
Super Blast (6560)
Attacks with a large, non-elemental blast around the user.

To Evo

1 Green Sharl
5 Green Stoans
10 Maxstoans
30 Stoans
Bountiful Kazane (Evolution)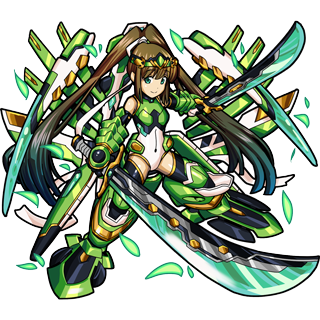 JP Name
草薙 フウカ 【樹武】
JP #
329
Class
Mech
Element
Gender
Female
Rarity
5★

Sling
Bounce
Max Luck
90
Type
Speed
Rating
3.0
Ability
Flight / Null Gravity Barrier
Gauge
-
HP
11095 (+2460) = 13555
Obtain
Evolution
ATK
14837 (+2240) = 17077
SPD
372.87 (+39.1) = 411.97
Luck Skill
-
Badge
Strike Shot
Second Form: World Tree - 16 Turns
Passes through enemies with two mechanical swords.
Bump Combo
Mega Blast (7653)
Attacks with a very large non-elemental blast around the user.
Strengths
Two Null Abilities
Blast Bump for supporting allies
Weakness
Low HP and ATK
SS only for utility
Iron Oath Series

Hatcher Monsters

Karin

Nanami

Kazane

Hikari

Saya
Drop Monsters

Solwing

Delugian

Florrior

Zic Zephyr

Murdigris
[Extreme] Guide
[Savage] Guide
[Extreme] Guide
[Savage] Guide
[Savage] Guide
Ad blocker interference detected!
Wikia is a free-to-use site that makes money from advertising. We have a modified experience for viewers using ad blockers

Wikia is not accessible if you've made further modifications. Remove the custom ad blocker rule(s) and the page will load as expected.