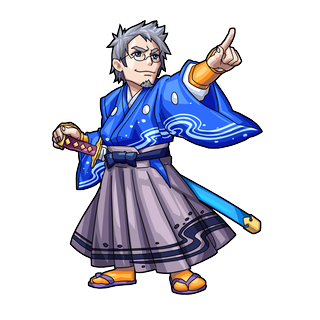 JP Name
-
JP #
487
Class
Samurai
Element
Gender
-
Rarity
-

Sling
Pierce
Max Luck
72
Type
Speed
Rating
-
Ability
Discordi Slayer
Gauge
-
HP
7027 (+1400) = 8427
Obtain
-
ATK
6818 (+1325) = 8143
SPD
338.37 (+68.00) = 406.37
Luck Skill
-
Badge
Strike Shot
Black Ship's Whistle - 13 Turns
Increases Speed at the sound of the black ships' whistles.
Bump Combo
Vertical Laser M (5412)
Attacks upward and downward with 2 medium-sized elemental lasers.

To Evo

1 Blue Sharl
5 Blue Stoans
10 Maxstoans
30 Stoans
Commissioner Katsu (Evolution)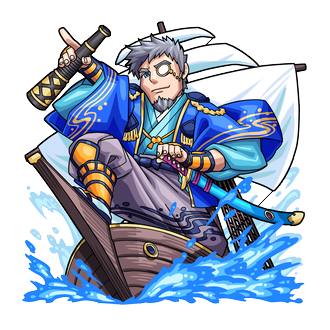 JP Name
-
JP #
488
Class
Samurai
Element
Gender
-
Rarity
-

Sling
Pierce
Max Luck
90
Type
Speed
Rating
-
Ability
Discordi Slayer L
Gauge
Shield Breaker
HP
12270 (+2460) = 14730
Obtain
-
ATK
10125 (+1975) = 12100 (14520 w/ Gauge)
SPD
374.30 (+75.65) = 449.95
Luck Skill
-
Badge
Strike Shot
Kanrinmaru Advances - 18 Turns
Boards the warship Kanrin Maru to increase Speed and Strength.
Bump Combo
Vertical Laser L (9471)
Attacks upward and downward with 2 large elemental lasers.
Strengths
Shield Breaker synergizes well with high SPD and Sling
Weakness
No uses for Discordi Slayer L
No Null Abilities
Rising Sun Revolutionaries Series

Hatcher Monsters

Sakamoto Ryoma

Katsu Kaishu

Oryo

John Manjiro

Saigo Takamori
Drop Monsters

Saito Hajime

Okita Soji

Tokugawa Yoshinobu

Kondo Isami

Hijikata Toshizo
[Savage] Guide
[Extreme] Guide
[Extreme] Guide
[Savage] Guide
[Savage] Guide
Ad blocker interference detected!
Wikia is a free-to-use site that makes money from advertising. We have a modified experience for viewers using ad blockers

Wikia is not accessible if you've made further modifications. Remove the custom ad blocker rule(s) and the page will load as expected.