JP Name
カルマ
JP #
2352
Class
War God
Element
Gender
Male
Rarity
5★

Sling
Bounce
Max Luck
90
Type
Balanced
Rating
-
Ability
Null Gravity Barrier
Gauge
-
HP
13268 (+0) = 13268
Obtain
ATK
11582 (+0) = 11582
SPD
187.70 (+0) = 187.70
Luck Skill
-
Badge
-
Strike Shot
記憶の宝石 - 12 Turns
Increases Speed.
Bump Combo
Homing Piercer 6 (1702)
Randomly targets foes with 6 elemental pass-through shots.

To Evo

2 Divine Sharls
10 Light Sharls
20 Light Stoans
60 Maxstoans

Material For

El Dorado
Karma, Light of War (Evolution)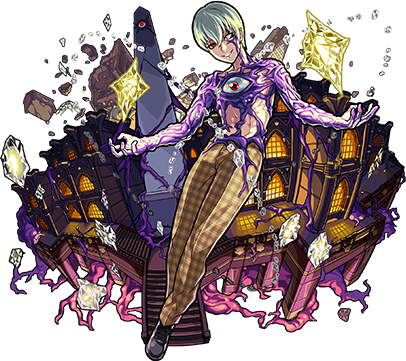 JP Name
光の闘神 カルマ
JP #
2353
Class
War God
Element
Gender
Male
Rarity
6★

Sling
Bounce
Max Luck
99
Type
Balanced
Rating
8.0
Ability
Null Gravity Barrier
Gauge
Nebulan Slayer / Null Block
HP
17406 (+3900) = 21306
Obtain
Evolution
ATK
15209 (+7425) = 22634 (27161 w/ Gauge)
SPD
220.70 (+112.20) = 332.90
Luck Skill
-
Badge
-
Strike Shot
報いの光 - 24 Turns
Fires a rebounding laser in the targeted direction that grows stronger based on the number of enemies hit.
Bump Combo
Homing Pierce-struction 8 (3345)
Randomly targets foes with 8 powerful elemental pass-through shots.
Strengths
Base NGB
Powerful bump combo
Weaknesses
SS can be difficult to handle
Nebulan slayer is extremely niche
Viable Quests

Impossibles/Colossals: Tsukuyomi | Tsukuyomi: Zero


Fire: Hydra


Water:


Wood:


Light: Signal Man | Pine


Dark: Satellite | Dark Wyrm | Kabushido | Bastet | Inari | Bahamut | Princess Takiyasha | Deathscoil | Darkblade Murasame | Valodica | Genome

Tower: 20F | 35F | 40F

Temple: Fire (Time) | Water (Time Trial) | Wood (Carnage) | Dark (Carnage)
Impossibles

1st Round

Izanami
[Guide]

Yamato Takeru
[Guide]

Kushinada
[Guide]

Izanagi
[Guide]

Tsukuyomi
[Guide]
2nd Round

Ashura
[Guide]

Bishamonten
[Guide]

Marishiten
[Guide]

Daikokuten
[Guide]

Acala
[Guide]
Zero

Izanami: Zero
[Guide]

Yamato: Zero
[Guide]

Kushinada: Zero
[Guide]

Izanagi: Zero
[Guide]

Tsukuyomi: Zero
[Guide]
War Gods

Nirvana
[Guide]

Doom
[Guide]

Memento Mori
[Guide]

Karma
[Guide]

Akasha
[Guide]
3rd Round

Cain
[Guide]

Lu Bu
[Guide]

Brutus
[Guide]
Ad blocker interference detected!
Wikia is a free-to-use site that makes money from advertising. We have a modified experience for viewers using ad blockers

Wikia is not accessible if you've made further modifications. Remove the custom ad blocker rule(s) and the page will load as expected.