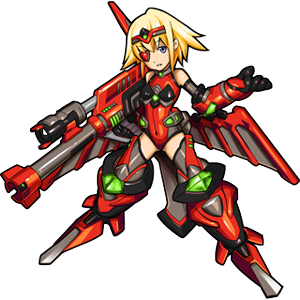 JP Name
不知火 カリン
JP #
324
Class
Mech
Element
Gender
Female
Rarity
4★

Sling
Bounce
Max Luck
72
Type
Speed
Rating
Ability
Flight / Null Damage Wall
Gauge
-
HP
6624 (+1400) = 8024
Obtain
Hatcher
ATK
9861 (+1280) = 11141
SPD
278.2 (+33.32) = 311.52
Luck Skill
-
Badge
Strike Shot
Flame Storm - 12 Turns
Uses fire weaponry to greatly increase Speed.
Bump Combo
Vertical Laser M (5412)
Attacks upward and downward with 2 medium-sized elemental lasers.

To Evo

1 Red Sharl
5 Red Stoans
10 Maxstoans
30 Stoans
Scorcher Karin (Evolution)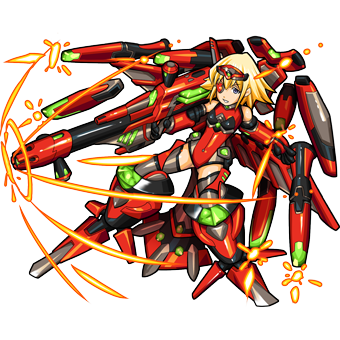 JP Name
不知火 カリン 【焔武】
JP #
325
Class
Mech
Element
Gender
Female
Rarity
5★

Sling
Bounce
Max Luck
90
Type
Speed
Rating
3.0
Ability
Flight / Null Damage Wall
Gauge
-
HP
11591 (+2460) = 14051
Obtain
Evolution
ATK
12089 (+2240) = 14329
SPD
325.07 (+39.1) = 364.17
Luck Skill
-
Badge
Strike Shot
Scorching Shot - 12 Turns
Uses a potent firearm to increase Strength on each wall rebound.
Bump Combo
Vertical Laser L (9471)
Attacks upward and downward with 2 large elemental lasers.
Strengths
Two Null Abilities
Potentially high damaging SS
Weakness
Iron Oath Series

Hatcher Monsters

Karin

Nanami

Kazane

Hikari

Saya
Drop Monsters

Solwing

Delugian

Florrior

Zic Zephyr

Murdigris
[Extreme] Guide
[Savage] Guide
[Extreme] Guide
[Savage] Guide
[Savage] Guide
Ad blocker interference detected!
Wikia is a free-to-use site that makes money from advertising. We have a modified experience for viewers using ad blockers

Wikia is not accessible if you've made further modifications. Remove the custom ad blocker rule(s) and the page will load as expected.