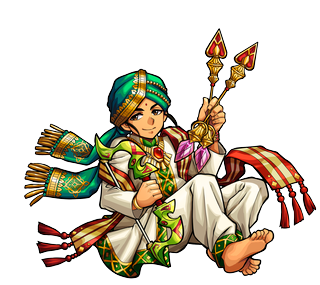 JP Name
-
JP #
709
Class
Deity
Element
Gender
-
Rarity
-

Sling
Bounce
Max Luck
72
Type
Balanced
Rating
-
Ability
Null Warp
Gauge
-
HP
6861 (+1400) = 8261
Obtain
-
ATK
8676 (+850) = 9526
SPD
271.27 (+26.35) = 297.62
Luck Skill
-
Badge
Strike Shot
Pushpa Vega - 13 Turns
Unleashes the power of love to increase Speed.
Bump Combo
Homing Shot 8 (2583)
Randomly targets foes with 8 elemental shots.

To Evo

1 Green Sharl
5 Green Stoans
10 Maxstoans
30 Stoans

Material For

Krishna
Heart Stirrer Kamadeva (Evolution)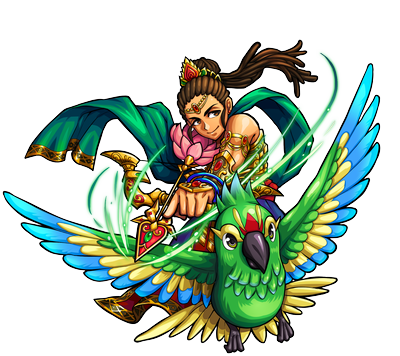 JP Name
-
JP #
710
Class
Deity
Element
Gender
-
Rarity
-

Sling
Bounce
Max Luck
90
Type
Balanced
Rating
-
Ability
Flight / Null Warp
Gauge
HP
11890 (+2460) = 14350
Obtain
-
ATK
12473 (+4250) = 16723
SPD
257.23 (+90.95) = 348.18
Luck Skill
-
Badge
Strike Shot
Loving Flower Arrow - 20 Turns
Launches a pulse of love in the targeted direction.
Bump Combo
Homing Shot 12 (3075)
Randomly targets foes with 12 elemental shots.
Strengths
Weakness
Low Bump Combo damage
Low SS damage
Heroes of the Vedas Series

Hatcher Monsters

Brahma

Kali

Parvati

Hanuman

Chandra
Drop Monsters

Agni

Garuda

Kamadeva

Vishnu

Krishna
[Savage] Guide
[Savage] Guide
[Savage] Guide
[Extreme] Guide
[Extreme] Guide
Ad blocker interference detected!
Wikia is a free-to-use site that makes money from advertising. We have a modified experience for viewers using ad blockers

Wikia is not accessible if you've made further modifications. Remove the custom ad blocker rule(s) and the page will load as expected.