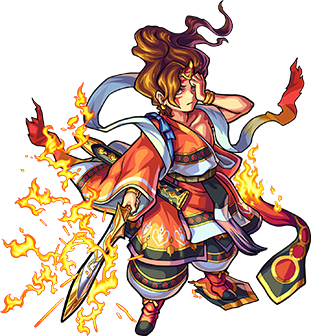 JP Name
カグツチ
JP #
2664
Class
Deity
Element
Gender
-
Rarity
-

Sling
Bounce
Max Luck
90
Type
Balanced
Rating
-
Ability
Null Gravity Barrier
Gauge
-
HP
10224 (+2460) = 12684
Obtain
-
ATK
15900 (+775) = 16675
SPD
253.13 (+12.75) = 265.88
Luck Skill
-
Badge
Strike Shot
火産霊 - 22 Turns
Increases Speed.
Bump Combo
Lock-on Piercewave 6 (13259)
Attacks foes with 6 non-elemental piercewaves.

To Evo

1 Divine Sharl
5 Red Sharls
10 Red Stoans
30 Maxstoans
Kagutsuchi (Evolution)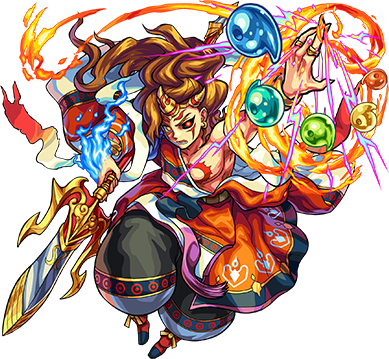 JP Name
火之夜藝速男神 カグツチ
JP #
2665
Class
Deity
Element
Gender
-
Rarity
-

Sling
Bounce
Max Luck
99
Type
Balanced
Rating
-
Ability
Fire Slayer M / Light Slayer M
Gauge
Null Gravity Barrier
HP
14359 (+3900) = 18259
Obtain
-
ATK
21399 (+2075) = 23474 (28169 w/ Gauge)
SPD
313.47 (+31.45) = 344.92
Luck Skill
Badge
Strike Shot
赫焉ノ血 - 24 Turns
Explodes on first enemy contact and does a lot of damage to all foes in the vicinity.
Bump Combo
Lock-on Piercewave 6 (18562)
Attacks foes with 6 non-elemental piercewaves.
Strengths
Two Elemental Slayers
High damaging Explosion SS
Weaknesses
Low HP
Only one Null Ability
Viable Quests

Impossibles/Colossals: Izanami | Cain | Nirvana | Karma


Fire:


Water:


Wood: Scorpika | Dullahan


Light: Lovely Dory | Minamoto no Yoritomo | Orochimaru


Dark:

Tower:

Temple: Wood (Carnage) | Dark (Carnage)
Ad blocker interference detected!
Wikia is a free-to-use site that makes money from advertising. We have a modified experience for viewers using ad blockers

Wikia is not accessible if you've made further modifications. Remove the custom ad blocker rule(s) and the page will load as expected.