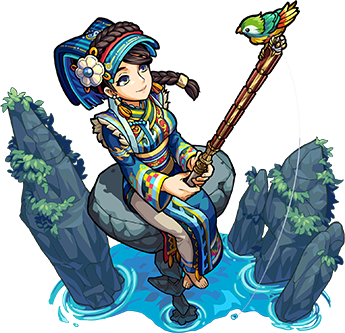 JP Name
-
JP #
2033
Class
Demihume
Element
Gender
-
Rarity
-

Sling
Bounce
Max Luck
90
Type
Balanced
Rating
7.0
Ability
Null Warp
Gauge
-
HP
11872 (+2460) = 14332
Obtain
-
ATK
12192 (+1175) = 13367
SPD
247.03 (+24.65) = 271.68
Luck Skill
-
Badge
Strike Shot
Nature's Hook - 12 Turns
Increases Speed.
Bump Combo
Homing Piercer 6 (1702)
Randomly targets foes with 6 elemental pass-through shots.

To Evo

1 Divine Sharl
5 Blue Sharls
10 Blue Stoans
30 Maxstoans

To Asc

Wen Zhong (3)
Imperial Debauchery (3)
Recommended Form - Ascension
Base Demihume Slayer M has more uses than Status Recovery
Taoist Elder Jiang Ziya (Evolution)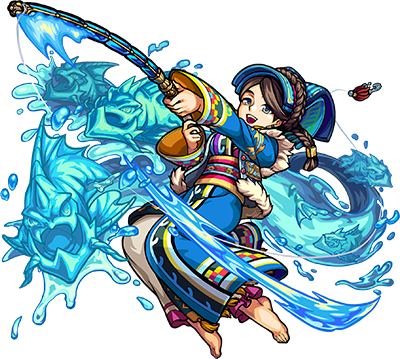 JP Name
-
JP #
2034
Class
Demihume
Element
Gender
-
Rarity
-

Sling
Bounce
Max Luck
99
Type
Balanced
Rating
8.0
Ability
Null Warp
Gauge
Status Recovery
HP
18987 (+3900) = 22887
Obtain
-
ATK
20246 (+2950) = 23196 (27835 w/ Gauge)
SPD
309.00 (+46.75) = 355.75
Luck Skill
Badge
Strike Shot
Aqua Lure - 18 Turns
Increases Speed and Strength and does a lot of damage to Shields.
Bump Combo
Slice 'n' Dice (2431)
Randomly slices into foes with razor-sharp blades.

To Asc

Wen Zhong (2)
Imperial Debauchery (2)
Strengths
Can cure debuffs from allies
Weakness
Ableberries
Survivor - Mitigates damage from enemies when she is nearby for her Bump Combo
Cutthroat - Works well against high HP Bosses
Viable Quests

Impossibles/Colossals: Avalon


Fire: Captain Mica | Shen Gongbao


Water:


Wood:


Light:


Dark: Vanilla the Witch | Bull Demon King | Venom

Tower:

Temple: Water (Time) | Water (Carnage)
Jiang Ziya the Warder (Ascension)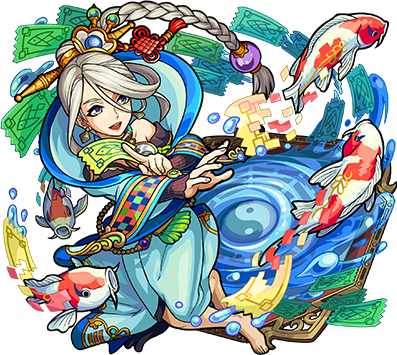 JP Name
-
JP #
2035
Class
Deity
Element
Gender
-
Rarity
-

Sling
Bounce
Max Luck
99
Type
Balanced
Rating
-
Ability
Demihume Slayer M
Gauge
Null Warp
HP
19341 (+4200) = 23541
Obtain
-
ATK
18616 (+2725) = 21341 (25609 w/ Gauge)
SPD
290.40 (+44.20) = 334.6
Luck Skill
Badge
Strike Shot
Goldfish Fortune - 13 Turns
Strikes the first contacted enemy and attacks with a laser.
Bump Combo
Homing Piercer 8 (2342)
Randomly targets foes with 18 elemental pass-through shots.

Sub Bump

To Evo

15 Blue Sharls
30 Blue Stoans
90 Maxstoans
Strengths
Effective against Demihume enemies
Short CD SS that can be used multiple times in a quest
Weakness
Low damage against non-Demihume enemies
Ableberries
Class Kinstrength - Increases damage towards Demihume enemies
Survivor - Mitigate damage from enemies after she uses her SS
Viable Quests

Impossibles/Colossals:


Fire: Wyatt Earp | Captain Mica | Shen Gongbao | Taki Rentaro


Water:


Wood:


Light: Orochimaru | Origami | Hikaru Genji


Dark: Domyoji Anko

Tower:

Temple: Water (Time) | Water (Carnage)
Fengshen Yanyi Series

Hatcher Monsters

Nezha

Jiang Ziya

Yang Quanqi
Drop Monsters

Shen Gongbao

Undead Master Ron

Wen Zhong

Zhou Wang

Imperial Debauchery
[Extreme] Guide
[Savage] Guide
[Extreme] Guide
[Savage] Guide
[Savage] Guide
Ad blocker interference detected!
Wikia is a free-to-use site that makes money from advertising. We have a modified experience for viewers using ad blockers

Wikia is not accessible if you've made further modifications. Remove the custom ad blocker rule(s) and the page will load as expected.