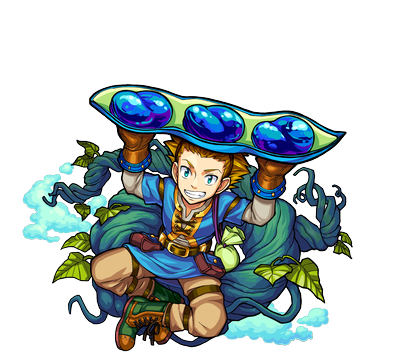 JP Name
-
JP #
1158
Class
Demihume
Element
Gender
-
Rarity
-

Sling
Bounce
Max Luck
72
Type
Speed
Rating
-
Ability
Null Damage Wall
Gauge
-
HP
6960 (+1400) = 8360
Obtain
-
ATK
8976 (+875) = 9851
SPD
229.60 (+22.95) = 252.55
Luck Skill
-
Badge
Strike Shot
Skedaddle - 12 Turns
Increases Speed.
Bump Combo
Spread Shot L2 (1722)
Fires two 16-way sprays of large elemental bullets.

To Evo

1 Blue Sharl
5 Blue Stoans
10 Maxstoans
30 Stoans
Feerless Climber Jack (Evolution)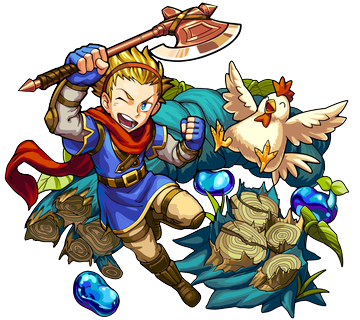 JP Name
-
JP #
1159
Class
Demihume
Element
Gender
-
Rarity
-

Sling
Bounce
Max Luck
90
Type
Speed
Rating
-
Ability
Null Damage Wall
Gauge
Shield Breaker
HP
12174 (+2460) = 14634
Obtain
-
ATK
8878 (+1300) = 10178 (12213 w/ Gauge)
SPD
369.33 (+55.25) = 424.58
Luck Skill
Badge
Strike Shot
Stalkchopper - 4 Turns
Passes through enemies while attacking.
Bump Combo
Spread Shot XL3 (2009)
Fires three 16-way sprays of massive elemental bullets.
Strengths
4 Turn Piercing SS to make it easy to break Shields
Weakness
Low HP
Low Bump Combo damage
Of Tales and Fables Series

Hatcher Monsters

Cinderella

Jack the Planter

Gulliver

Happy Prince

Thumbelina
Drop Monsters

Old Mamma

Ugly Duckling Doug

King Daunkie

Cabaletta

Geppetto
[Savage] Guide
[Savage] Guide
[Savage] Guide
[Extreme] Guide
[Extreme] Guide
Ad blocker interference detected!
Wikia is a free-to-use site that makes money from advertising. We have a modified experience for viewers using ad blockers

Wikia is not accessible if you've made further modifications. Remove the custom ad blocker rule(s) and the page will load as expected.