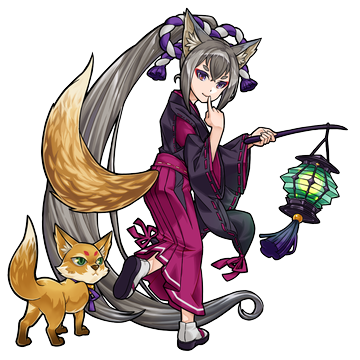 JP Name
-
JP #
683
Class
Demihume
Element
Gender
-
Rarity
-

Sling
Bounce
Max Luck
72
Type
Balanced
Rating
-
Ability
Demon Slayer
Gauge
-
HP
7339 (+1400) = 8739
Obtain
-
ATK
8606 (+825) = 9431
SPD
212.37 (+21.25) = 233.62
Luck Skill
-
Badge
Strike Shot
Fleet Fox Ninjitsu - 13 Turns
Increases Speed.
Bump Combo
Vertical Laser M (5412)
Attacks upward and downward with 2 medium-sized elemental lasers.

To Evo

1 Dark Sharl
5 Dark Stoans
10 Maxstoans
30 Stoans

Material For

Kirigakure Saizo
Sarutobi Sasuke
Jiraiya
Orochimaru
Nazca
Faerie Fox Izuna (Evolution)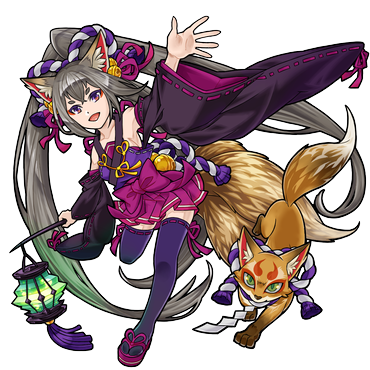 JP Name
-
JP #
684
Class
Demihume
Element
Gender
-
Rarity
-

Sling
Bounce
Max Luck
90
Type
Balanced
Rating
-
Ability
Demon Slayer L
Gauge
-
HP
12844 (+2460) = 15304
Obtain
-
ATK
15064 (+2200) = 17264
SPD
248.13 (+37.4) = 285.53
Luck Skill
-
Badge
Strike Shot
Ninetail Possession - 18 Turns
Unleashes the power of nine tails to increase Speed and Strength.
Bump Combo
Vertical Laser L (9471)
Attacks upward and downward with 2 large elemental lasers.
Strengths
Effective against Demon enemies
Powerful Bump Combo for a 5★
Weakness
Night of the Ninja Series

Hatcher Monsters

Hattori Hanzo

Kirigakure Saizo

Momochi Sandayu

Saotome Shuri

Sarutobi Sasuke
Drop Monsters

Inugami

Tsunade

Jiraiya

Orochimaru

Izuna
[Savage] Guide
[Savage] Guide
[Extreme] Guide
[Extreme] Guide
[Savage] Guide
Ad blocker interference detected!
Wikia is a free-to-use site that makes money from advertising. We have a modified experience for viewers using ad blockers

Wikia is not accessible if you've made further modifications. Remove the custom ad blocker rule(s) and the page will load as expected.