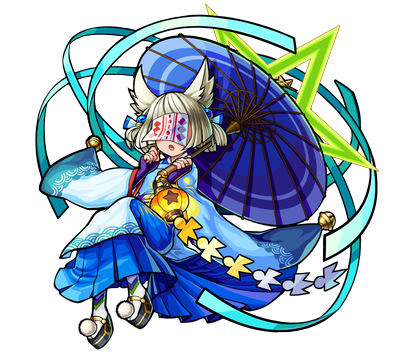 JP Name
-
JP #
1129
Class
Demon
Element
Gender
-
Rarity
-

Sling
Bounce
Max Luck
90
Type
Balanced
Rating
-
Ability
Null Warp
Gauge
-
HP
10289 (+2460) = 12749
Obtain
-
ATK
18152 (+1775) = 19927
SPD
267.50 (+26.35) = 293.85
Luck Skill
-
Badge
Strike Shot
Yokai's Judge - 16 Turns
Passes through enemies while attacking.
Bump Combo
Poison Spread 8 (1004)
Fires three 8-way sprays of poison bullets.

To Evo

1 Divine Sharl
5 Blue Sharls
10 Blue Stoans
30 Maxstoans

To Asc

Princess Takiyasha (3)
Goldman (3)
Recommended Form - Evolution
Shikigami Izumo (Evolution)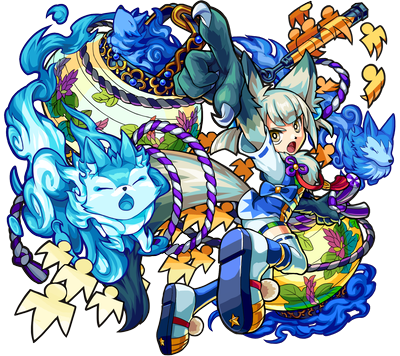 JP Name
-
JP #
1130
Class
Demon
Element
Gender
-
Rarity
-

Sling
Bounce
Max Luck
99
Type
Balanced
Rating
-
Ability
Fire Resistance
Gauge
Null Warp
HP
18789 (+3900) = 22689
Obtain
-
ATK
20224 (+2950) = 23174 (27808 w/ Gauge)
SPD
273.17 (+40.80) = 313.97
Luck Skill
Badge
Strike Shot
Yasaka - 20 Turns
Passes through enemies while attacking and increases the grade of items on screen.
Bump Combo
Poison Spread 16 (1406)
Fires three 16-way sprays of poison bullets.

To Asc

Princess Takiyasha (2)
Goldman (2)
Strengths
Mitigates damage from Fire enemies, very useful in Avalon
SS can grow hearts for when you are in a pinch
Bump Combo effective against Scorpions
Weakness
Ableberries
Class Kinstrength - Increases SS damage
Survivor - Mitigates damage from enemies
Cutthroat - Works well against high HP Bosses
Viable Quests

Impossibles/Colossals: Avalon


Fire: Hydra | Captain Mica | Shen Gongbao | Leopoint


Water: ZENIGATA


Wood:


Light: Origami


Dark:

Tower:

Temple: Water (Time) | Water (Carnage)
Izumo the Spirit Flame (Ascension)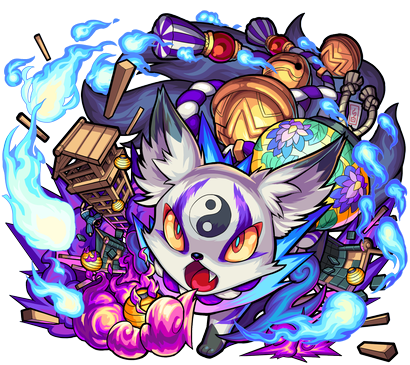 JP Name
-
JP #
1131
Class
Beast
Element
Gender
-
Rarity
-

Sling
Bounce
Max Luck
99
Type
Balanced
Rating
-
Ability
Null Warp
Gauge
Mancer Slayer
HP
15686 (+4200) = 19886
Obtain
-
ATK
17668 (+2575) = 20243 (24291 w/ Gauge)
SPD
297.87 (+45.05) = 342.92
Luck Skill
Badge
Strike Shot
Freezing Foxfire - 28 Turns
Paralyzes enemies on contact with weak points.
Bump Combo
Cross Laser L (6187)
Attacks in a cross pattern with large elemental lasers.

Sub Bump

To Evo

15 Blue Sharls
30 Blue Stoans
90 Maxstoans
Strengths
SS can paralyze Bosses to avoid huge attacks
Lock-on Toxwave effective against Scorpions
Weakness
Only Null Warp
Not many uses for her Slayer
Ableberries
Class Kinstrength - Increases damage towards Mancers
Survivor - Mitigates damage from enemies
Viable Quests

Impossibles/Colossals:


Fire:


Water: ZENIGATA


Wood:


Light:


Dark: Vanilla the Witch

Tower:

Temple: Water (Time) | Water (Carnage)
Onmyodo Road Series

Hatcher Monsters

Izumo

Ibaraki Doji

Diviner Seimei
Drop Monsters

Rakshasa

Goldman

Doman

Preta

Princess Takiyasha
[Extreme] Guide
[Savage] Guide
[Savage] Guide
[Savage] Guide
[Extreme] Guide
Ad blocker interference detected!
Wikia is a free-to-use site that makes money from advertising. We have a modified experience for viewers using ad blockers

Wikia is not accessible if you've made further modifications. Remove the custom ad blocker rule(s) and the page will load as expected.