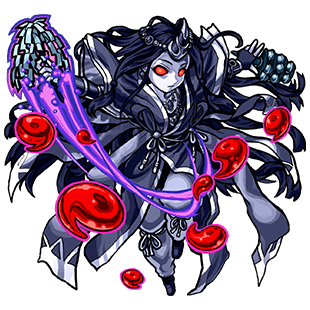 JP Name
イザナミ零
JP #
1738
Class
Deity
Element
Gender
Female
Rarity
5★

Sling
Bounce
Max Luck
90
Type
Speed
Rating
-
Ability
Null Gravity Barrier
Gauge
-
HP
12813 (+0) = 12813
Obtain
ATK
12049 (+0) = 12049
SPD
323.50 (+0) = 323.50
Luck Skill
-
Badge
-
Strike Shot
怨・炎・礼・賛 - 12 Turns
Increases Speed.
Bump Combo
Meteor-struction (149303)
Attacks a random enemy with a devastating meteor.

To Evo

2 Divine Sharls
10 Red Sharls
20 Red Stoans
60 Maxstoans

Material For

Arcadia
Izanami the Inviter: Zero (Evolution)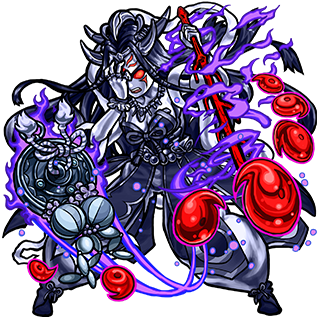 JP Name
黄泉津大神 イザナミ零
JP #
1739
Class
Deity
Element
Gender
Female
Rarity
6★

Sling
Bounce
Max Luck
99
Type
Speed
Rating
8.0
Ability
Null Gravity Barrier / Paladin Slayer
Gauge
Null Warp / Sprite Slayer M
HP
17616 (+3900) = 21516
Obtain
Evolution
ATK
14173 (+6925) = 21098 (25317 w/ Gauge)
SPD
290.00 (+146.20) = 436.20
Luck Skill
-
Badge
-
Strike Shot
黄泉の慟哭 - 18 Turns
Launches rebounding pulses in the targeted direction.
Bump Combo
Meteor-struction (199071)
Attacks a random enemy with a devastating meteor.
Strengths
Double slayers
High speed
NGB + NW
Weaknesses
SS requires positioning
Bump combo terrible for mob clearing
Viable Quests

Impossibles/Colossals: Izanami | Kushinada | Izanagi | Tsukuyomi | Izanagi: Zero | Nirvana | Memento Mori | Shambhala


Fire: Momotaro


Water:


Wood: Snowman | Issun | Fellmane | HIKAKIN | Nash | Pencil Base | Wen Zhong | Gomora | Biollante | Tokugawa Yoshinobu | Reindeera | Wood Noel | Dullahan | Oragon TV-chan


Light: Princess Nokko | Fenrir | Aries | Jack | Origami | Signal Man | Lightblade Murasame | Miyabi | Ultimecia


Dark: Vanilla the Witch | Space Whale Geppetto | Darkblade Murasame | Princess Takiyasha

Tower: 30F

Temple: Fire (Time) | Light (Time) | Light (Carnage) | Dark (Carnage)
Impossibles

1st Round

Izanami
[Guide]

Yamato Takeru
[Guide]

Kushinada
[Guide]

Izanagi
[Guide]

Tsukuyomi
[Guide]
2nd Round

Ashura
[Guide]

Bishamonten
[Guide]

Marishiten
[Guide]

Daikokuten
[Guide]

Acala
[Guide]
Zero

Izanami: Zero
[Guide]

Yamato: Zero
[Guide]

Kushinada: Zero
[Guide]

Izanagi: Zero
[Guide]

Tsukuyomi: Zero
[Guide]
War Gods

Nirvana
[Guide]

Doom
[Guide]

Memento Mori
[Guide]

Karma
[Guide]

Akasha
[Guide]
3rd Round

Cain
[Guide]

Lu Bu
[Guide]

Brutus
[Guide]
Ad blocker interference detected!
Wikia is a free-to-use site that makes money from advertising. We have a modified experience for viewers using ad blockers

Wikia is not accessible if you've made further modifications. Remove the custom ad blocker rule(s) and the page will load as expected.