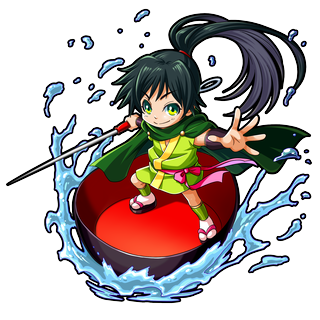 JP Name
一寸法師
JP #
477
Class
Demihume
Element
Gender
-
Rarity
-

Sling
Bounce
Max Luck
90
Type
Speed
Rating
-
Ability
Demonsbane
Gauge
-
HP
14678 (+0) = 14678
Obtain
-
ATK
13508 (+0) = 13508
SPD
408.63 (+0) = 408.63
Luck Skill
-
Badge
-
Strike Shot
Inch-High Firedust - 25 Turns
Attacks enemies on contact with an acorn shower.
Bump Combo
Spread Shot XL3 (2009)
Fires 3 16-way sprays of massive elemental bullets

To Evo

1 Divine Sharl
5 Green Sharls
10 Green Stoans
30 Maxstoans

Material For

Momotaro
Red Hood Red-Hood Nonno
Raff
Issun the Sizeable (Evolution)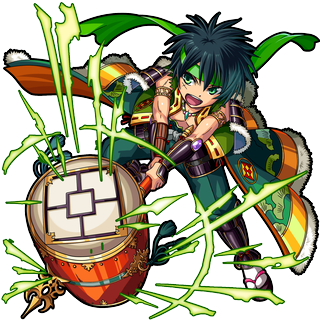 JP Name
少名毘古那 一寸法師
JP #
478
Class
Demihume
Element
Gender
-
Rarity
-

Sling
Bounce
Max Luck
99
Type
Speed
Rating
-
Ability
Demonsbane
Gauge
-
HP
18965 (+3900) = 22865
Obtain
-
ATK
17902 (+3500) = 21402
SPD
375.57 (+75.65) = 451.22
Luck Skill
Badge
Strike Shot
Mallet Flash - 28 Turns
Attacks enemies on contact with an acorn shower.
Bump Combo
Spread Shot XL3 (2812)
Fires 3 16-way sprays of massive elemental bullets
Strengths
High SPD that makes it easy to hit Meteor SS
Weakness
No Null Abilities
Low Bump Combo damage
Ableberries
Class Kinstrength - Increases SS damage
Strike Haste - Shortens his long SS cooldown
Viable Quests

Impossibles/Colossals:


Fire:


Water: Kay


Wood:


Light: Ghoulie


Dark:

Tower:

Temple: Water (Time) | Wood (Carnage)

Faereie Tale Fantasia Series

Hatcher Monsters

Red-Hood Red-Hood Nonno

Loreley the Mermaid

Spearmint Boots

Beast

Hamelin
Drop Monsters

Momotaro

Urashima

Issun

Tanuki

Kaguya
[Extreme] Guide
[Savage] Guide
[Extreme] Guide
[Savage] Guide
[Savage] Guide
Ad blocker interference detected!
Wikia is a free-to-use site that makes money from advertising. We have a modified experience for viewers using ad blockers

Wikia is not accessible if you've made further modifications. Remove the custom ad blocker rule(s) and the page will load as expected.