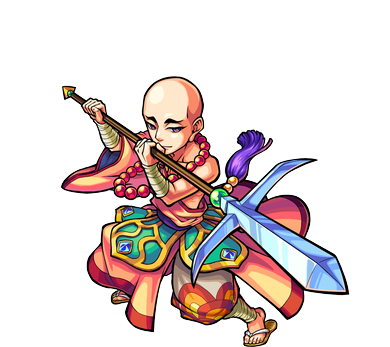 JP Name
-
JP #
1853
Class
Demihume
Element
Gender
-
Rarity
-

Sling
Pierce
Max Luck
72
Type
Balanced
Rating
-
Ability
Null Warp
Gauge
-
HP
6778 (+1400) = 8178
Obtain
-
ATK
9451 (+900) = 10351
SPD
243.43 (+23.8) = 267.23
Luck Skill
-
Badge
Strike Shot
Path of the Spear - 22 Turns
Attacks all enemies on contact with lightning.
Bump Combo
Cross Laser S (2706)
Attacks in a cross pattern with 4 small elemental lasers.

To Evo

1 Red Sharl
5 Red Stoans
10 Maxstoans
30 Stoans
Inshun, Master of Hozoin-Ryu (Evolution)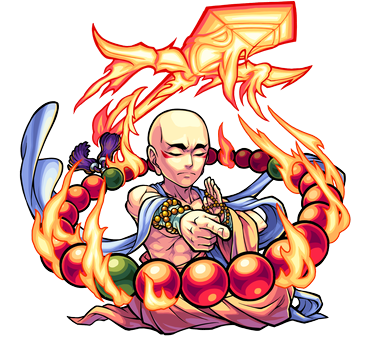 JP Name
-
JP #
1854
Class
Demihume
Element
Gender
-
Rarity
-

Sling
Pierce
Max Luck
90
Type
Balanced
Rating
-
Ability
Mine Sweeper
Gauge
Null Warp
HP
11865 (+2460) = 14325
Obtain
-
ATK
12235 (+1775) = 14010 (16812 w/ Gauge)
SPD
284.47 (+42.5) = 326.97
Luck Skill
-
Badge
Strike Shot
Sealed Cross Spear - 26 Turns
Attacks all enemies on contact with lightning.
Bump Combo
Cross Laser M (4735)
Attacks in a cross pattern with 4 medium-sized elemental lasers.
Strengths
Double Null Abilities
SS synergizes well with Sling
Weakness
Low damage from Bump Combo and Meteor SS
Martial Masters Series

Hatcher Monsters

Inshun

Sasaki Kojiro

Baiken

Miyamoto Musashi

Yagyu Jubei
Drop Monsters

Zeami

MC Basho

Chikamatsu Monzaemon

Okuni

Onryo
[Extreme] Guide
[Savage] Guide
[Extreme] Guide
[Savage] Guide
[Savage] Guide
Ad blocker interference detected!
Wikia is a free-to-use site that makes money from advertising. We have a modified experience for viewers using ad blockers

Wikia is not accessible if you've made further modifications. Remove the custom ad blocker rule(s) and the page will load as expected.