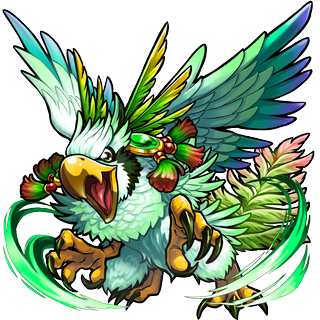 JP Name
-
JP #
582
Class
Etherean
Element
Gender
-
Rarity
-

Sling
Pierce
Max Luck
72
Type
Speed
Rating
-
Ability
Vivolith Slayer / Flight
Gauge
-
HP
6624 (+1400) = 8024
Obtain
-
ATK
7779 (+750) = 8529
SPD
241.70 (+23.80) = 265.50
Luck Skill
-
Badge
Strike Shot
Beckoning Netherbreeze - 12 Turns
Hails an inauspicious wind to increase Speed.
Bump Combo
Super Blast (9184)
Attacks with a non-elemental blast around the user.

To Evo

1 Green Sharl
5 Green Stoans
10 Maxstoans
30 Stoans

Material For

Surtr
Hraesvelgr the Skyshaker (Evolution)
JP Name
-
JP #
583
Class
Etherean
Element
Gender
-
Rarity
-

Sling
Pierce
Max Luck
90
Type
Speed
Rating
-
Ability
Vivolith Slayer L / Flight
Gauge
HP
11591 (+2460) = 14051
Obtain
-
ATK
13615 (+5300) = 18915
SPD
282.37 (+113.90) = 396.27
Luck Skill
-
Badge
Strike Shot
Rising Storm - 12 Turns
Hails an inauspicious wind to increase Speed.
Bump Combo
Mega Blast (10714)
Attacks with a very large, non-elemental blast around the user.
Strengths
Effective against Vivolith enemies
Mega Blast to support your team
Weakness
Destined Ragnarok Series

Hatcher Monsters

Freyja

Verdandi

Yggdrasil

Baldr

Loki
Drop Monsters

Surtr

Jormungandr

Hraesvelgr

Fenrir

Hel
[Extreme] Guide
[Savage] Guide
[Savage] Guide
[Extreme] Guide
[Savage] Guide
Ad blocker interference detected!
Wikia is a free-to-use site that makes money from advertising. We have a modified experience for viewers using ad blockers

Wikia is not accessible if you've made further modifications. Remove the custom ad blocker rule(s) and the page will load as expected.