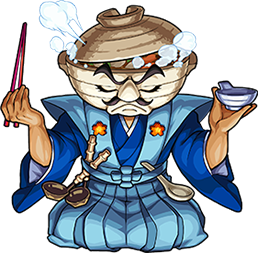 JP Name
-
JP #
2416
Class
Samurai
Element
Gender
-
Rarity
-

Sling
Bounce
Max Luck
90
Type
Balanced
Rating
-
Ability
Fire Resistance
Gauge
-
HP
14674 (+0) = 14674
Obtain
-
ATK
15274 (+0) = 15274
SPD
208.5 (+0) = 208.5
Luck Skill
-
Badge
Strike Shot
Code of the Cauldron - 12 Turns
Increases Speed.
Bump Combo
Mega Blast (7653)
Attacks with a very large, non-elemental blast around the user.

To Evo

1 Divine Sharl
5 Blue Sharls
10 Blue Stoans
30 Maxstoans

Material For

May
Oz
Hansel & Gretel
Hotpot, Warrior of Delicious Flavor (Evolution)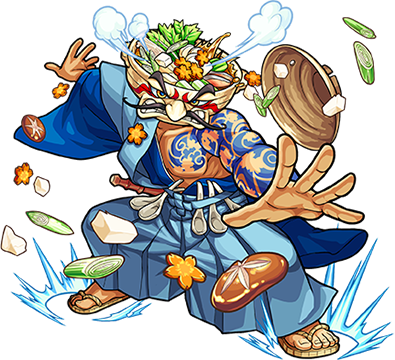 JP Name
-
JP #
2417
Class
Samurai
Element
Gender
-
Rarity
-

Sling
Bounce
Max Luck
99
Type
Balanced
Rating
-
Ability
Fire Resistance
Gauge
Null Damage Wall
HP
16218 (+3900) = 20118
Obtain
-
ATK
15545 (+5300) = 20845 (25014 w/ Gauge)
SPD
229.5 (+80.75) = 310.25
Luck Skill
Badge
Strike Shot
Boiling Blizzard - 16 Turns
Leads teammates against the enemy.
Bump Combo
Giga Blast (7499)
Attacks with a massive, non-elemental blast around the user.
Strengths
16 Turn Command SS that can be used multiple times to mob clear
Mitigates damage from Fire enemies
Weakness
Only Null Damage Wall
Low single target damage from SS
Viable Quests

Impossibles/Colossals: Ashura


Fire: Taki Rentaro | Vendetta | Fortuna


Water:


Wood:


Light:


Dark:

Tower:

Temple:
Fantasia 4 Series

Hatcher Monsters

May

Oz

Hansel & Gretel
Drop Monsters

Fortuna

Hotpot

LionDance

Feisha
[Lethal] Guide
[Extreme] Guide
[Extreme] Guide
[Savage] Guide
Ad blocker interference detected!
Wikia is a free-to-use site that makes money from advertising. We have a modified experience for viewers using ad blockers

Wikia is not accessible if you've made further modifications. Remove the custom ad blocker rule(s) and the page will load as expected.