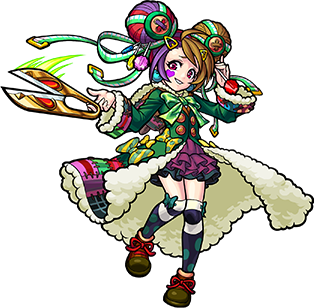 JP Name
-
JP #
2291
Class
Demihume
Element
Gender
-
Rarity
-

Sling
Bounce
Max Luck
90
Type
Power
Rating
-
Ability
Null Damage Wall
Gauge
-
HP
16247 (+0) = 16247
Obtain
-
ATK
21144 (+0) = 21144
SPD
161.33 (+0) = 161.33
Luck Skill
-
Badge
Strike Shot
Sewing Magica - 18 Turns
Launches a pulse attack in the targeted direction.
Bump Combo
Vertical Laser L (6629)
Attacks upward and downward with 2 large elemental lasers.

To Evo

1 Divine Sharl
5 Green Sharls


Material For

Coral
Pearl
Valodica
Stitch Witch Homumi (Evolution)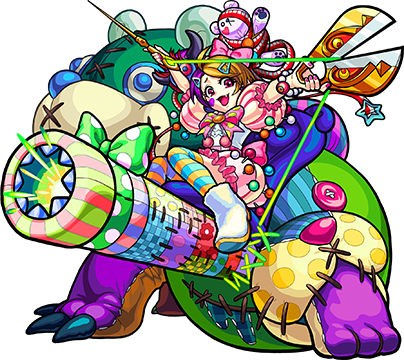 JP Name
-
JP #
2292
Class
Demihume
Element
Gender
-
Rarity
-

Sling
Bounce
Max Luck
99
Type
Power
Rating
-
Ability
Null Damage Wall
Gauge
HP
21326 (+3900) = 25226
Obtain
-
ATK
25640 (+8775) = 34415
SPD
150.67 (+53.55) = 204.22
Luck Skill
Badge
Strike Shot
Teddy Cannon - 18 Turns
Fires a cruciform cannon in the targeted direction.
Bump Combo
One-way Laser XL (17325)
Attacks upward with a massive elemental laser.
Strengths
Easy to position for her Bump Combo due to low SPD
High HP
Weakness
Only one Null Ability and lots of replacements for her
Viable Quests

Impossibles/Colossals:


Fire:


Water: Tiger I | Nurarihyon | Joker | Origa


Wood:


Light:


Dark:

Tower:

Temple:
Jewel Academy 2 Series

Hatcher Monsters

Coral

Lapis Lazuli

Pearl
Drop Monsters

Leopoint

Homumi

Arte

Valodica
[Extreme] Guide
[Extreme] Guide
[Savage] Guide
[Lethal] Guide
Ad blocker interference detected!
Wikia is a free-to-use site that makes money from advertising. We have a modified experience for viewers using ad blockers

Wikia is not accessible if you've made further modifications. Remove the custom ad blocker rule(s) and the page will load as expected.