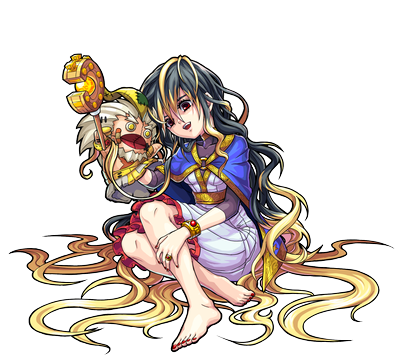 JP Name
ヘラ
JP #
1446
Class
Deity
Element
Gender
-
Rarity
-

Sling
Pierce
Max Luck
90
Type
Balanced
Rating
-
Ability
Null Gravity Barrier
Gauge
-
HP
12077 (+2460) = 14537
Obtain
-
ATK
11993 (+1150) = 13143
SPD
272.00 (+27.20) = 299.20
Luck Skill
-
Badge
Strike Shot
Milky Way - 26 Turns
Attacks all enemies on contact with a lightning shower.
Bump Combo
Mega Blast (7653)
Attacks with a very large, non-elemental blast around the user.

To Evo

1 Divine Sharl
5 Light Sharls
10 Light Stoans
30 Maxstoans

To Asc

Siren (3)
Kraken (2)
Recommended Form - Ascension
Hera, Goddess of Jealousy (Evolution)
JP Name
嫉妬の女神 ヘラ
JP #
1447
Class
Deity
Element
Gender
-
Rarity
-

Sling
Pierce
Max Luck
99
Type
Balanced
Rating
-
Ability
Null Gravity Barrier
Gauge
Deity Slayer
HP
14491 (+3900) = 18391
Obtain
-
ATK
17838 (+2600) = 20438 (24526 w/ Gauge)
SPD
310.03 (+46.75) = 356.78
Luck Skill
Badge
Strike Shot
First Bite Forever - 16 Turns


Sends the first contacted enemy flying and restores HP.

Bump Combo
Poison Spread 16 (1406)


Fires three 16-way sprays of poison bullets.

To Asc

Siren (2)
Kraken (1)
Strengths
Effective against Deity Bosses
Bump Combo great for scorpions
Weakness
Ableberries
Knockout - Synergizes well with Sling and good in dungeons like Izanami and Tsukuyomi
Class Kinvigor - Covers her low HP
Class Kinstrength - Increases her damage to Deities
Viable Quests

Impossibles/Colossals: Tsukuyomi | Izanami | Izanagi | Tsukuyomi: Zero


Fire: Forty-Seven Ronin


Water:


Wood:


Light:


Dark: Bastet | Krishna | Inari

Tower:

Temple: Water (Time) | Wood (Carnage) | Dark (Carnage)
Hera, Empress of the Gods (Ascension)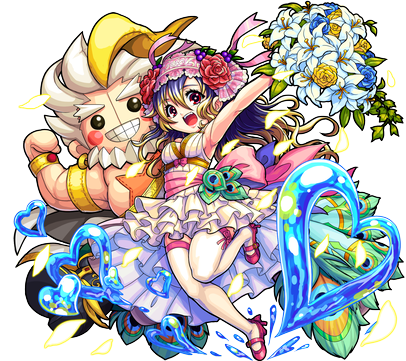 JP Name
神々の女帝 ヘラ
JP #
1448
Class
Deity
Element
Gender
-
Rarity
-

Sling
Pierce
Max Luck
99
Type
Balanced
Rating
-
Ability
Mine Sweeper
Gauge
Null Gravity Barrier
HP
18091 (+4200) = 22291
Obtain
-
ATK
16719 (+2450) = 19169 (23003 w/ Gauge)
SPD
310.03 (+46.75) = 356.78
Luck Skill
Badge
Strike Shot
Bath at Kanathos - 30 Turns
Attacks all enemies on contact with a lightning shower.
Bump Combo
Giga Blast (7499)
Attacks with a massive, non-elemental blast around the user.

Sub Bump

To Evo

15 Light Sharls
30 Light Stoans
90 Maxstoans
Strengths
Two Null Abilities
Blast Bump can proc allies' BUmps
Weakness
Low damage from normal attacks and Bumps
Ableberries
Survivor - Great on support monsters
Knockout - Synergizes well with Sling and good in dungeons like Izanami and Tsukuyomi
Class Kinspeed - Increases her Meteor SS damage
Viable Quests

Impossibles/Colossals: Izanami | Tsukuyomi | Acala


Fire: Zeami


Water: Marie Antoinette | Ra x 6th Angel


Wood:


Light:


Dark: Deathscoil | Inari | Typera

Tower:

Temple: Fire (Time) | Fire (Carnage) | Water (Time) | Wood (Carnage) | Dark (Carnage)
Ad blocker interference detected!
Wikia is a free-to-use site that makes money from advertising. We have a modified experience for viewers using ad blockers

Wikia is not accessible if you've made further modifications. Remove the custom ad blocker rule(s) and the page will load as expected.