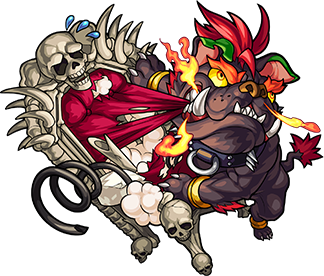 JP Name
-
JP #
2066
Class
Beast
Element
Gender
-
Rarity
-

Sling
Bounce
Max Luck
72
Type
Speed
Rating
-
Ability
Null Gravity Barrier
Gauge
-
HP
5971 (+1400) = 7371
Obtain
-
ATK
7247 (+700) = 7947
SPD
244.93 (+24.65) = 269.58
Luck Skill
-
Badge
Strike Shot
Gnawed Chair - 12 Turns
Increases Speeed.
Bump Combo
Vertical Laser M (5412)
Attacks upward and downward with 2 medium-sized elemental lasers.

To Evo

1 Red Sharl
5 Red Stoans
10 Maxstoans
30 Stoans

Material For

Yamata no Orochi
Underworld Gatekeeper Hellhound (Evolution)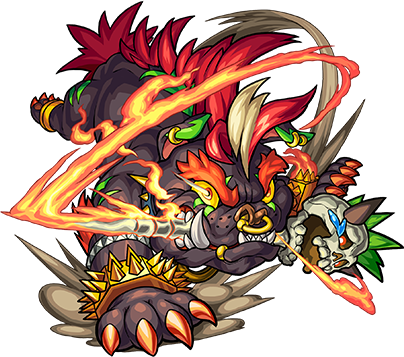 JP Name
-
JP #
2067
Class
Beast
Element
Gender
-
Rarity
-

Sling
Bounce
Max Luck
90
Type
Speed
Rating
-
Ability
Null Gravity Barrier
Gauge
Null Warp
HP
10452 (+2460) = 12912
Obtain
-
ATK
9095 (+3100) = 12195 (14634 w/ Gauge)
SPD
314.87 (+111.35) = 426.22
Luck Skill
Badge
Strike Shot
Death Howling - 16 Turns
Passes through enemies while attacking.
Bump Combo
Vertical Laser L (9471)
Attacks upward and downward with 2 large elemental lasers.
Strengths
High SPD that works well with his Piercing SS
High damaging Bump Combo for a ★5
Weakness
Low HP and ATK
Hard to position for his Bump Combo with his high SPD
Legendary Weapons Series

Hatcher Monsters

Ama no Murakumo

Gáe Bolg

Aegis
Drop Monsters

Hellhound

Yamata no Orochi

Cyclops

Scyllara

Team Fodder
[Savage] Guide
[Extreme] Guide
[Savage] Guide
[Extreme] Guide
[Savage] Guide
Ad blocker interference detected!
Wikia is a free-to-use site that makes money from advertising. We have a modified experience for viewers using ad blockers

Wikia is not accessible if you've made further modifications. Remove the custom ad blocker rule(s) and the page will load as expected.