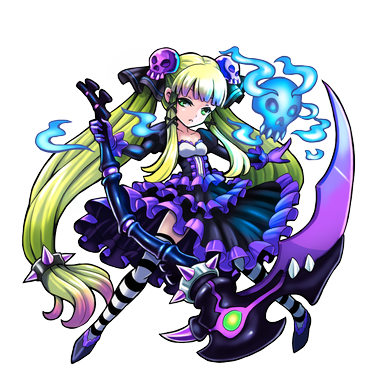 JP Name
-
JP #
587
Class
Deity
Element
Gender
-
Rarity
-

Sling
Bounce
Max Luck
72
Type
Balanced
Rating
-
Ability
Null Damage Wall
Gauge
-
HP
7758 (+1400) = 9158
Obtain
-
ATK
8606 (+825) = 8382
SPD
227.87 (+22.95) = 250.93
Luck Skill
-
Badge
Strike Shot
Hell's Speed - 13 Turns
Increases own speed using the power of the Underworld.
Bump Combo
Lock-on Shockwave 3 (7576)
Attacks with 3 non-elemental shockwaves.

To Evo

1 Dark Sharl
5 Dark Stoans
10 Maxstoans
30 Stoans

Material For

Yggdrasil
Loki
Surtr
Fenrir
Hel the Netherqueen (Evolution)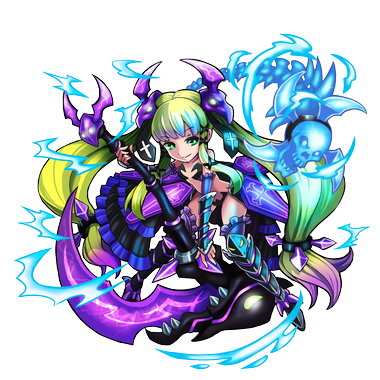 JP Name
-
JP #
588
Class
Deity
Element
Gender
-
Rarity
-

Sling
Bounce
Max Luck
90
Type
Balanced
Rating
-
Ability
Null Damage Wall
Gauge
-
HP
13577 (+2460) = 16037
Obtain
-
ATK
13402 (+5225) = 18627
SPD
266.27 (+107.1) = 273.37
Luck Skill
-
Badge
Strike Shot
Helheim Dimension - 18 Turns
Greatly increases Speed and Strength and does a lot of damage to shields.
Bump Combo
Lock-on Shockwave 6 (13259)
Attacks with 6 non-elemental shockwaves.
Strengths
Weakness
Destined Ragnarok Series

Hatcher Monsters

Freyja

Verdandi

Yggdrasil

Baldr

Loki
Drop Monsters

Surtr

Jormungandr

Hraesvelgr

Fenrir

Hel
[Extreme] Guide
[Savage] Guide
[Savage] Guide
[Extreme] Guide
[Savage] Guide
Ad blocker interference detected!
Wikia is a free-to-use site that makes money from advertising. We have a modified experience for viewers using ad blockers

Wikia is not accessible if you've made further modifications. Remove the custom ad blocker rule(s) and the page will load as expected.