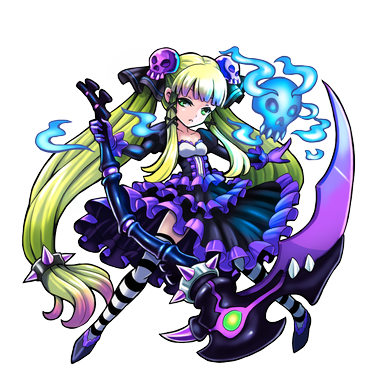 JP Name
ヘル
JP #
587
Class
Deity
Element
Gender
Female
Rarity
4★

Sling
Bounce
Max Luck
72
Type
Balanced
Rating
Ability
Null Damage Wall
Gauge
-
HP
7758 (+1400) = 9158
Obtain
ATK
8606 (+825) = 8382
SPD
227.87 (+22.95) = 250.93
Luck Skill
-
Badge
Strike Shot
Hell's Speed - 13 Turns
Increases own speed using the power of the Underworld.
Bump Combo
Lock-on Shockwave 3 (7576)
Attacks with 3 non-elemental shockwaves.

To Evo

1 Dark Sharl
5 Dark Stoans
10 Maxstoans
30 Stoans

Material For

Yggdrasil
Loki
Surtr
Fenrir
Hel the Netherqueen (Evolution)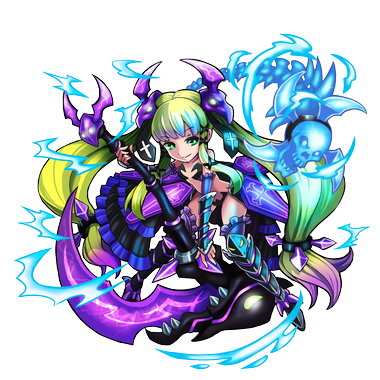 JP Name
冥界の女神 ヘル
JP #
588
Class
Deity
Element
Gender
Female
Rarity
5★

Sling
Bounce
Max Luck
90
Type
Balanced
Rating
3.0
Ability
Null Damage Wall
Gauge
-
HP
13577 (+2460) = 16037
Obtain
Evolution
ATK
13402 (+5225) = 18627
SPD
266.27 (+107.1) = 273.37
Luck Skill
-
Badge
Strike Shot
Helheim Dimension - 18 Turns
Greatly increases Speed and Strength and does a lot of damage to shields.
Bump Combo
Tri-Rebound Spreadshot (8858)
Fires three elemental spreadshots that rebound and scatter off walls.
Strengths
Weakness
Destined Ragnarok Series

Hatcher Monsters

Freyja

Verdandi

Yggdrasil

Baldr

Loki
Drop Monsters

Surtr

Jormungandr

Hraesvelgr

Fenrir

Hel
[Extreme] Guide
[Savage] Guide
[Savage] Guide
[Extreme] Guide
[Savage] Guide
Ad blocker interference detected!
Wikia is a free-to-use site that makes money from advertising. We have a modified experience for viewers using ad blockers

Wikia is not accessible if you've made further modifications. Remove the custom ad blocker rule(s) and the page will load as expected.