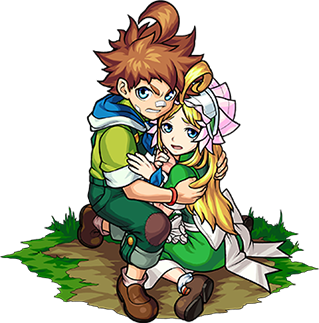 JP Name
-
JP #
2410
Class
Demihume
Element
Gender
-
Rarity
-

Sling
Bounce
Max Luck
90
Type
Balanced
Rating
-
Ability
Null Gravity Barrier
Gauge
-
HP
14995 (+2460) = 17455
Obtain
-
ATK
15962 (+1575) = 17537
SPD
257.83 (+25.50) = 283.33
Luck Skill
-
Badge
Strike Shot
Bonds of Brother and Sister - 12 Turns
Increases Speed.
Bump Combo
Meteor-struction (149303)
Attacks a random enemy with a devastating meteor.

To Evo

1 Divine Sharl
5 Green Sharls
10 Green Stoans
30 Maxstoans

To Asc

Hotpot (3)
Feisha (4)
Recommended Form - Ascension
Weak Point Slayer synergies with Pierce Sling
Viability in Penglai
Candy Combo Hansel & Gretel (Evolution)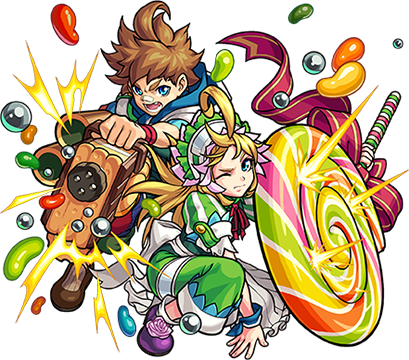 JP Name
-
JP #
2411
Class
Demihume
Element
Gender
-
Rarity
-

Sling
Bounce
Max Luck
99
Type
Balanced
Rating
-
Ability
Null Gravity Barrier / Strike Shot Reducer
Gauge
HP
19250 (+3900) = 23150
Obtain
-
ATK
23659 (+3450) = 27109
SPD
263.7 (+39.1) = 302.8
Luck Skill
Badge
Strike Shot
Candypop Resistance - 30 Turns
Attacks enemies with a meteor shower that grows more powerful with each enemy contacted.
Bump Combo
Meteor-struction (199071)
Attacks a random enemy with a devastating meteor.

To Asc

Hotpot (2)
Feisha (3)
Strengths
Strike Short Reducer for a powerful Chain Meteor SS
Weakness
Only Null Gravity Barrier
Randomness of Meteor-struction
Ableberries
Class Kinspeed - Increases SPD to hit allies easier
Sidekick - Increases their Bump Combo damage
Viable Quests

Impossibles/Colossals: Yamato Takeru | Lu Bu


Fire:


Water: Origa | Nurarihyon | Baal | Kay | Goldy & Baldy | Sanma | Joker | Tiger I


Wood:


Light:


Dark:

Tower: 22F | 27F | 38F

Temple: Water (Time) | Dark (Carnage)
Sweet March Hansel & Gretel (Ascension)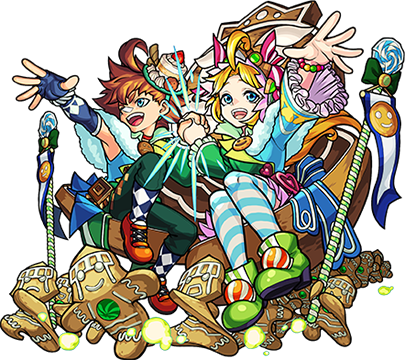 JP Name
-
JP #
2412
Class
Demihume
Element
Gender
-
Rarity
-

Sling
Pierce
Max Luck
99
Type
Balanced
Rating
-
Ability
Null Damage Wall
Gauge
Weak Point Slayer
HP
18600 (+4200) = 22800
Obtain
-
ATK
22958 (+3350) = 26308 (31569 w/ Gauge)
SPD
284.07 (+42.5) = 326.57
Luck Skill
Badge
Strike Shot
Jolly Cookie March - 19 Turns
Creates a healing wall on the first wall contacted.
Bump Combo
Vertical Laser XL (24255)
Attacks upward and downward with 2 massive elemental lasers.

Sub Bump

To Evo

15 Green Sharls
30 Green Stoans
90 Maxstoans
Strengths
Weak Point Slayer synergizes well with Pierce Sling
Vertical Laser XL is a good damage source
Weakness
Ableberries
Class Kinstrength - Increases ATK for their Slayer
Sidekick - Increases Bump Combo damage
Viable Quests

Impossibles/Colossals: Penglai | Bishamonten


Fire:


Water: Queen Butterflight | Kay | Nurarihyon | Tiger I | Taira no Kiyomori | Dracula | Joker


Wood: Jotun


Light:


Dark: Sephiroth

Tower:

Temple: Water (Time) | Light (Carnage) | Dark (Time)
Fantasia 4 Series

Hatcher Monsters

May

Oz

Hansel & Gretel
Drop Monsters

Fortuna

Hotpot

LionDance

Feisha
[Lethal] Guide
[Extreme] Guide
[Extreme] Guide
[Savage] Guide
Ad blocker interference detected!
Wikia is a free-to-use site that makes money from advertising. We have a modified experience for viewers using ad blockers

Wikia is not accessible if you've made further modifications. Remove the custom ad blocker rule(s) and the page will load as expected.