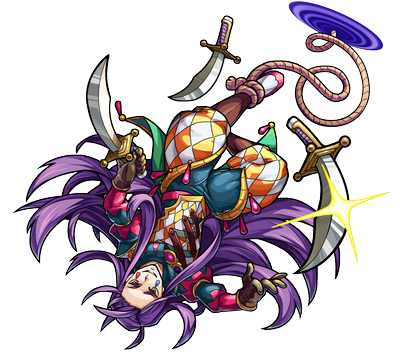 JP Name
-
JP #
1125
Class
Demihume
Element
Gender
-
Rarity
-

Sling
Bounce
Max Luck
72
Type
Speed
Rating
-
Ability
Mine Sweeper
Gauge
-
HP
6503 (+1400) = 7903
Obtain
-
ATK
7401 (+700) = 8101
SPD
256.17 (+25.50) = 281.67
Luck Skill
-
Badge
Strike Shot
Hanging by a Foot - 12 Turns
Increases Speed.
Bump Combo
One-way Laser M (3864)
Attacks downward with a medium-sized elemental laser.

To Evo

1 Dark Sharl
5 Dark Stoans
10 Maxstoans
30 Stoans

Material For

Salamander
Undine
Cait Sith
Ghoulie
Tangled Hanged Man (Evolution)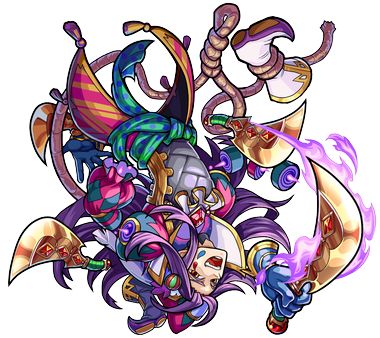 JP Name
-
JP #
1126
Class
Demihume
Element
Gender
-
Rarity
-

Sling
Bounce
Max Luck
90
Type
Speed
Rating
-
Ability
Mine Sweeper
Gauge
HP
11381 (+2460) = 13841
Obtain
-
ATK
9073 (+3075) = 12148
SPD
299.37 (+105.40) = 404.77
Luck Skill
Badge
Strike Shot
Hanged Paradise - 16 Turns
Increases Speed and Strength.
Bump Combo
One-way Laser L (6762)
Attacks downward with a large elemental laser.
Strengths
Weakness
Hard to position for his Bump Combo
Low HP
Spellbound Spirits Series

Hatcher Monsters

Salamander

Undine

Gnome

Sylph

Cait Sith
Drop Monsters

Legion

Lantern Angler

Poltergeist

Ghoulie

Hanged Man
[Savage] Guide
[Savage] Guide
[Extreme] Guide
[Extreme] Guide
[Savage] Guide
Ad blocker interference detected!
Wikia is a free-to-use site that makes money from advertising. We have a modified experience for viewers using ad blockers

Wikia is not accessible if you've made further modifications. Remove the custom ad blocker rule(s) and the page will load as expected.