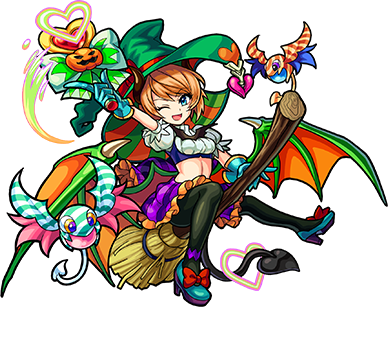 JP Name
-
JP #
2276
Class
Demon
Element
Gender
-
Rarity
-

Sling
Bounce
Max Luck
90
Type
Balanced
Rating
-
Ability
Mine Sweeper
Gauge
-
HP
13451 (+0) = 13451
Obtain
-
ATK
13709 (+0) = 13709
SPD
234.9 (+0) = 234.9
Luck Skill
-
Badge
Strike Shot
Pumpkin Trick - 12 Turns
Increases Speed.
Bump Combo
Spread Piercer XL3 (2009)
Fires three 16-way sprays of massive elemental pass-through shots.

To Evo

1 Divine Sharl
5 Green Sharls
10 Green Stoans
30 Maxstoans
Mischief Maker Halloweena (Evolution)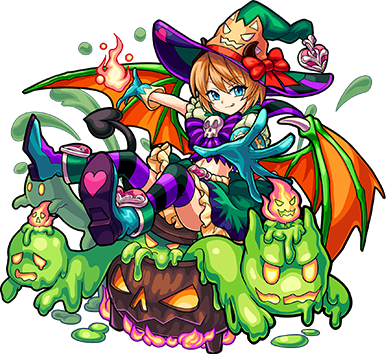 JP Name
-
JP #
2277
Class
Demon
Element
Gender
-
Rarity
-

Sling
Bounce
Max Luck
99
Type
Balanced
Rating
-
Ability
Mine Sweeper / Samurai Slayer
Gauge
Dash
HP
18259 (+3900) = 22159
Obtain
-
ATK
14555 (+4975) = 19530 (23436 w/ Gauge)
SPD
147.4 (+51.85) = 199.25
Luck Skill
Badge
Strike Shot
Magical Gourd - 30 Turns
Attacks enemies on contact with an acorn shower.
Bump Combo
Spread Piercer XL3 (2812)
Fires three 16-way sprays of massive elemental pass-through shots.
Strengths
Meteor SS for mob clearing and procs with her Samurai Slayer
Dash increases her SPD for the shot
Weakness
Only one Null Ability
Low Bump Combo damage
Viable Quests

Impossibles/Colossals: Yamato Takeru: Zero


Fire:


Water: ZENIGATA | Queen Butterflight | Jabberwock


Wood: Gigamantis | Florrior


Light:


Dark: Honda Tadakatsu | Satellite

Tower:

Temple:
Ad blocker interference detected!
Wikia is a free-to-use site that makes money from advertising. We have a modified experience for viewers using ad blockers

Wikia is not accessible if you've made further modifications. Remove the custom ad blocker rule(s) and the page will load as expected.