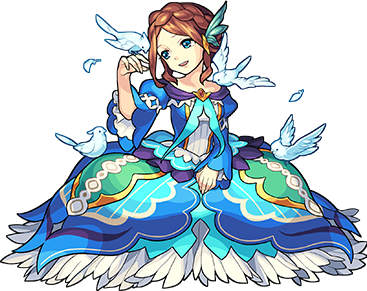 JP Name
グィネヴィア
JP #
2452
Class
Demihume
Element
Gender
-
Rarity
-

Sling
Pierce
Max Luck
90
Type
Balanced
Rating
-
Ability
Status Recovery
Gauge
Null Block
HP
15133 (+2460) = 17593
Obtain
-
ATK
12553 (+1200) = 13753 (16504 w/ Gauge)
SPD
259.17 (+25.50) = 284.67
Luck Skill
-
Badge
Strike Shot
White Enchantress - 12 Turns
Deals a lot of damage upon contact with enemy weak point.
Bump Combo
WP Lock-on Shockwave 5 (14641)
Fires elemental shockwaves at all on-screen weak points.

To Evo

1 Divine Sharl
5 Blue Sharls
10 Blue Stoans
30 Maxstoans

To Asc

Mosquito (2)
Dullahan (2)
Alraune (1)
Recommended Form - Ascension
Both forms are great against Arcadia
Ascension has an extra Null Warp for more viability
Fated Queen Guinevere (Evolution)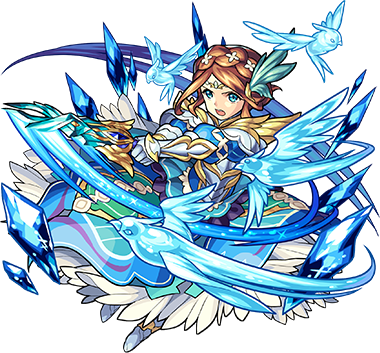 JP Name
運命の王妃 グィネヴィア
JP #
2453
Class
Demihume
Element
Gender
-
Rarity
-

Sling
Pierce
Max Luck
99
Type
Balanced
Rating
-
Ability
Status Recovery
Gauge
Null Block
HP
19727 (+3900) = 23627
Obtain
-
ATK
22592 (+3300) = 25892 (31071 w/ Gauge)
SPD
315.50 (+47.60) = 363.10
Luck Skill
Badge
Strike Shot
Relentless Soul - 16 Turns
Deals a lot of damage upon contact with enemy weak point.
Bump Combo
Attack Up (0)
Grants an attack boost to teammates.

To Asc

Mosquito (1)
Dullahan (1)
Alraune (1)
Strengths
Status Recovery is good at curing the SPD Down in Arcadia
Pierce synergies well with SS
Weakness
Little viability outside of Arcadia
Ableberries
Class Kinstrength - Increase damage for her SS
Cutthroat - Great to cut down Arcadia's high HP
Viable Quests

Impossibles/Colossals: Arcadia | Tsukuyomi: Zero


Fire: Haru | Daisy


Water:


Wood:


Light: Pine | Sphinx


Dark:

Tower:

Temple: Fire (Trial) | Water (Time) | Water (Carnage)
Penitent Prayer Guinevere (Ascension)
JP Name
祈りの修道女 グィネヴィア
JP #
2454
Class
Demihume
Element
Gender
-
Rarity
-

Sling
Bounce
Max Luck
99
Type
Blast
Rating
-
Ability
Null Warp
Gauge
Null Block
HP
19024 (+4200) = 23224
Obtain
-
ATK
18968 (+2775) = 21743 (26092 w/ Gauge)
SPD
248.60 (+37.40) = 286.00
Luck Skill
Badge
Strike Shot
Reticent Prayer - 30 Turns
Delays enemy attacks on contact for 3 turns.
Bump Combo
WP Lock-on Shockwave 5 (28700)
Fires elemental shockwaves at all on-screen weak points.

Sub Bump

To Evo

15 Blue Sharls
30 Blue Stoans
90 Maxstoans
Strengths
Delay SS can help give you a few extra turns to deal damage
Blast type Bump Combos can do a lot of damage
High stats
Weakness
Bump Combo can be useless if there is no clear path to the weakpoint
Ableberries
Sidekick - Increases her blast-type bump combos' damage
Survivor - Mitigate more damage in Avalon and Arcadia
Class Kinstrength - Increase damage dealt to enemies
Viable Quests

Impossibles/Colossals: Izanami | Izanagi | Izanagi: Zero | Tsukuyomi: Zero | Akasha | Cain | Avalon | Arcadia


Fire: Figzel | Shen Gongbao | Gremory | Daisy | Captain Mica | Ymir | Fire Noel


Water: Koalius | Galaxy Serpent | Sima Yi


Wood:


Light: Rivaithanra | Pine | Hikaru Genji | Kesalan Patharan | Lovely Dory


Dark: Bull Demon King | Lady Rokujo | Domyoji Anko | Vanilla the Witch | Sensui Minoru

Tower:

Temple: Water (Time)
Ad blocker interference detected!
Wikia is a free-to-use site that makes money from advertising. We have a modified experience for viewers using ad blockers

Wikia is not accessible if you've made further modifications. Remove the custom ad blocker rule(s) and the page will load as expected.