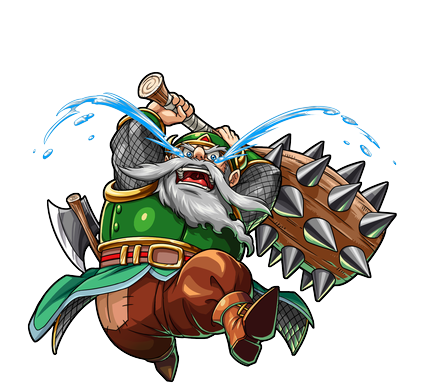 JP Name
-
JP #
1108
Class
Sprite
Element
Gender
-
Rarity
-

Sling
Bounce
Max Luck
72
Type
Power
Rating
-
Ability
Demon Slayer L
Gauge
-
HP
8234 (+1400) = 9634
Obtain
-
ATK
13860 (+1350) = 15210
SPD
116.73 (+11.05) = 127.78
Luck Skill
-
Badge
Strike Shot
Tearful Clobbering - 15 Turns
Bashes the first contacted enemy and sends it flying.
Bump Combo
Vertical Laser M (3788)
Attacks upward and downward with 2 medium-sized elemental lasers.

To Evo

1 Green Sharl
5 Green Stoans
10 Maxstoans
30 Stoans
Earth Spirit Gnome (Evolution)
JP Name
-
JP #
1109
Class
Sprite
Element
Gender
-
Rarity
-

Sling
Bounce
Max Luck
90
Type
Power
Rating
-
Ability
Demon Slayer L
Gauge
Vivolith Slayer
HP
13972 (+2460) = 16432
Obtain
-
ATK
19983 (+2950) = 22933 (27519 w/ Gauge)
SPD
129.63 (+19.55) = 149.18'
Luck Skill
Badge
Strike Shot
Furious Slaughtering - 16 Turns
Bashes the first contacted enemy and sends it flying.
Bump Combo
Vertical Laser L (6629)
Attacks upward and downward with 2 large elemental lasers.
Strengths
Effective against both Demons and Vivolith enemies
Weakness
Spellbound Spirits Series

Hatcher Monsters

Salamander

Undine

Gnome

Sylph

Cait Sith
Drop Monsters

Legion

Lantern Angler

Poltergeist

Ghoulie

Hanged Man
[Savage] Guide
[Savage] Guide
[Extreme] Guide
[Extreme] Guide
[Savage] Guide
Ad blocker interference detected!
Wikia is a free-to-use site that makes money from advertising. We have a modified experience for viewers using ad blockers

Wikia is not accessible if you've made further modifications. Remove the custom ad blocker rule(s) and the page will load as expected.