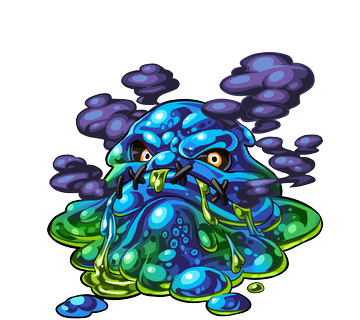 JP Name
-
JP #
847
Class
Demon
Element
Gender
-
Rarity
-

Sling
Bounce
Max Luck
72
Type
Power
Rating
-
Ability
Fire Resistance
Gauge
-
HP
10935 (+1400) = 12335
Obtain
-
ATK
8768 (+850) = 9618
SPD
103.93 (+10.20) = 114.13
Luck Skill
-
Badge
Strike Shot
Oozin' for a Bruisin' - 12 Turns
Bashes the first contacted enemy and attacks with a laser.
Bump Combo
Lock-on Shockwave 3 (5303)
Attacks with 3 non-elemental shockwaves.

To Evo

1 Blue Sharl
5 Blue Stoans
10 Maxstoans
30 Stoans

Material For

Vanilla the Witch
Rapunzel
Vendetta
Weaponized Gluttony (Evolution)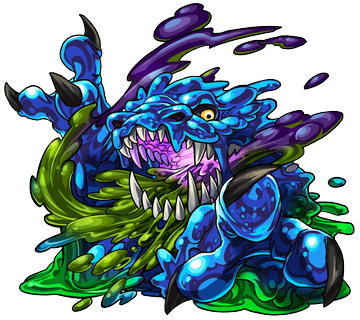 JP Name
-
JP #
848
Class
Demon
Element
Gender
-
Rarity
-

Sling
Bounce
Max Luck
90
Type
Power
Rating
-
Ability
Fire Resistance
Gauge
-
HP
18732 (+2460) = 21192
Obtain
-
ATK
13349 (+4550) = 17899
SPD
114.70 (+39.95) = 154.65
Luck Skill
Badge
Strike Shot
Gelatinous Strike - 12 Turns
Bashes the first contacted enemy and attacks with a laser.
Bump Combo
Lock-on Shockwave 6 (9281)
Attacks with 6 non-elemental shockwaves.
Strengths
Mitigates damage from Fire enemies
High HP and ATK
Weakness
No Null Abilities
Low damage output
Transcendent Tales Series

Hatcher Monsters

King Beebie

Rapunzel

Snow Bow White

Aladdin

Pinocchio
Drop Monsters

Vendetta

Gluttony

Dr. Ginger

Lazanicoff

Vanilla the Witch
[Extreme] Guide
[Savage] Guide
[Savage] Guide
[Savage] Guide
[Extreme] Guide
Ad blocker interference detected!
Wikia is a free-to-use site that makes money from advertising. We have a modified experience for viewers using ad blockers

Wikia is not accessible if you've made further modifications. Remove the custom ad blocker rule(s) and the page will load as expected.