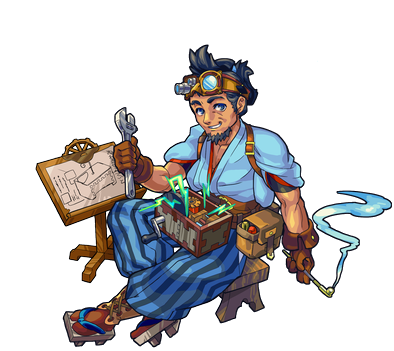 JP Name
ゲンナイ
JP #
1635
Class
Demihume
Element
Gender
Male
Rarity
5★

Sling
Bounce
Max Luck
90
Type
Blast
Rating
-
Ability
Null Warp
Gauge
-
HP
11983 (+2460) = 14443
Obtain
-
ATK
14450 (+1425) = 15875
SPD
256 (+25.5) = 281.5
Luck Skill
-
Badge
Strike Shot
Electrostatic Brainchild - 12 Turns
Increases Speed.
Bump Combo
Vertical Laser L (13259)
Attacks upward and downward with 2 large elemental lasers.

To Evo

1 Divine Sharl
5 Blue Sharls
10 Blue Stoans
30 Maxstoans

To Asc

Roller Girl (2)
Shovelsaurus (2)
Helldozer (2)
Recommended Form - Either
Evolution has more Null Abilities
Ascension is more effective in Avalon
Edo Genius Gennai (Evolution)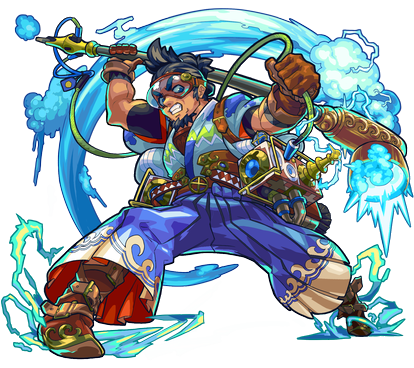 JP Name
江戸に轟く鬼才 ゲンナイ
JP #
1636
Class
Demihume
Element
Gender
Male
Rarity
6★

Sling
Bounce
Max Luck
99
Type
Blast
Rating
-
Ability
Null Gravity Barrier
Gauge
Super Null Warp
HP
18188 (+3900) = 22088
Obtain
-
ATK
18275 (+2675) = 20950 (25140 w/ Gauge)
SPD
270.43 (+40.80) = 311.23
Luck Skill
Badge
Strike Shot
Electrostatic Explosion - 18 Turns
Increases Speed and does a lot of damage to Shields.
Bump Combo
Vertical Laser XL (17236)
Attacks upward and downward with 2 massive elemental lasers.

To Asc

Roller Girl (1)
Shovelsaurus (1)
Helldozer (1)
Strengths
Weakness
SS is bad to position for his Bump Combo
Ableberries
Sidekick - Increases his Bump Combo damage
Survivor - Mitigate damage in high damaging dungeons
Viable Quests

Impossibles/Colossals: Izanami | Nirvana


Fire: Momotaro | Queen of Hearts | Max Murai | Crimson Blade Muramasa


Water:


Wood:


Light:


Dark:

Tower:

Temple: Fire (Time) | Fire (Carnage) | Water (Time) | Water (Carnage) | Dark (Carnage)
Cybertech Gennai (Ascension)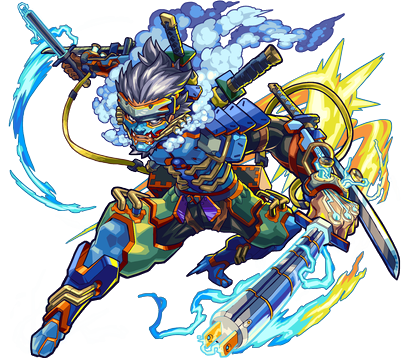 JP Name
サイバティック・ゲンナイ
JP #
1637
Class
Mech
Element
Gender
Male
Rarity
6★

Sling
Bounce
Max Luck
99
Type
Balanced
Rating
-
Ability
Null Warp / Weak Point slayer
Gauge
-
HP
18788 (+4200) = 22988
Obtain
-
ATK
23803 (+3475) = 27278
SPD
306.00 (+46.75) = 352.85
Luck Skill
Badge
Strike Shot
Mechaninjacal Storm - 30 Turns
Attacks enemies with a meteor shower that grows more powerful with each enemy contacted.
Bump Combo
Twin Vertical Laser L (12312)
Attacks upward and downward with 2 large elemental double lasers.

Sub Bump

To Evo

15 Blue Sharls
30 Blue Stoans
90 Maxstoans
Strengths
High stats
Meteor SS and Guide is great for Avalon (Colossal)
Weakness
Ableberries
Strike Haste - Decreases his Meteor SS cooldown
Class Kinstrength - Increases his Meteor damage
Viable Quests

Impossibles/Colossals: Avalon


Fire: Grey Alien


Water: ZENIGATA


Wood:


Light:


Dark:

Tower:

Temple: Fire (Carnage) | Water (Carnage)
Ad blocker interference detected!
Wikia is a free-to-use site that makes money from advertising. We have a modified experience for viewers using ad blockers

Wikia is not accessible if you've made further modifications. Remove the custom ad blocker rule(s) and the page will load as expected.