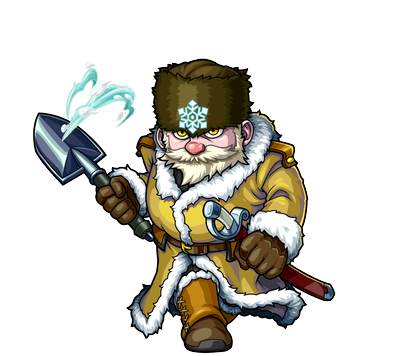 JP Name
-
JP #
1729
Class
Demihume
Element
Gender
-
Rarity
-

Sling
Bounce
Max Luck
72
Type
Balanced
Rating
-
Ability
Mine Sweeper
Gauge
-
HP
6388 (+1400) = 7788
Obtain
-
ATK
9200 (+900) = 10100
SPD
192.2 (+18.7) = 210.9
Luck Skill
-
Badge
Strike Shot
A Shovel's Up - 15 Turns
Bashes the first contacted enemy.
Bump Combo
Homing Shot 8 (2583)
Randomly targets foes with 8 elemental shots.

To Evo

1 Blue Sharl
5 Light Stoans
10 Maxstoans
30 Stoans

Material For

Forty-Seven Ronin
Siberian General Frost (Evolution)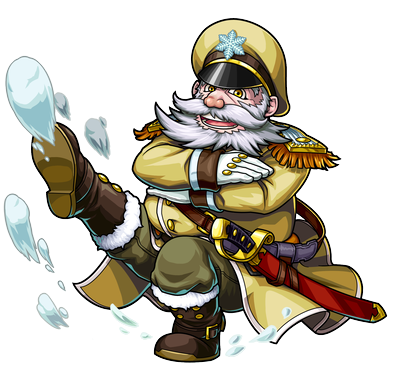 JP Name
-
JP #
1730
Class
Demihume
Element
Gender
-
Rarity
-

Sling
Bounce
Max Luck
90
Type
Balanced
Rating
-
Ability
Mine Sweeper
Gauge
Mech Slayer
HP
11070 (+2460) = 13530
Obtain
-
ATK
10859 (+3700) = 14559 (17470 w/ Gauge)
SPD
235.07 (+82.45) = 317.52
Luck Skill
-
Badge
Strike Shot
Snowheel Cossack Dance - 16 Turns
Bashes the first contacted enemy and sends it flying.
Bump Combo
Homing Shot 12 (3075)
Randomly targets foes with 12 elemental shots.
Strengths
Effective against Mechs which also shoots out Mines
Weakness
Bump Combo doesn't proc Slayer
Ad blocker interference detected!
Wikia is a free-to-use site that makes money from advertising. We have a modified experience for viewers using ad blockers

Wikia is not accessible if you've made further modifications. Remove the custom ad blocker rule(s) and the page will load as expected.