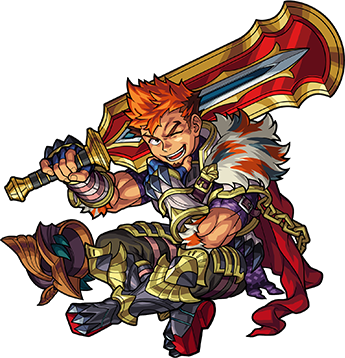 JP Name
ガヴェイン
JP #
2449
Class
Paladin
Element
Gender
-
Rarity
-

Sling
Pierce
Max Luck
90
Type
Power
Rating
-
Ability
Mine Sweeper M / Paladin Slayer M
Gauge
-
HP
16745 (+2460) = 19205
Obtain
-
ATK
19304 (+1875) = 21179
SPD
182.47 (+17.85) = 200.32
Luck Skill
-
Badge
Strike Shot
Loyalty to Arthur - 8 Turns
Rebound off enemies and dance across the battlefield.
Bump Combo
Tag Laser L (8985)
Fires a large elemental laser in the bumping monster's direction of travel.

To Evo

1 Divine Sharl
5 Red Sharls
10 Red Stoans
30 Maxstoans

To Asc

Mosquito (3)
Alraune (4)
Recommended Form - Ascension
Better Slayer that has more viability
Ascension SS can be used for positioning his Bump Combo
Sun Knight Gawain (Evolution)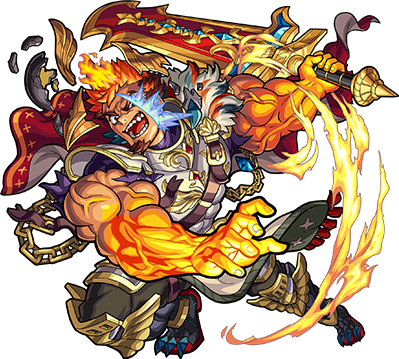 JP Name
太陽の騎士 ガウェイン
JP #
2450
Class
Paladin
Element
Gender
-
Rarity
-

Sling
Pierce
Max Luck
99
Type
Power
Rating
-
Ability
Mine Sweeper M / Paladin Slayer M
Gauge
-
HP
20552 (+3900) = 24452
Obtain
-
ATK
29919 (+4400) = 34319
SPD
202.83 (+30.60) = 233.43
Luck Skill
Badge
Strike Shot
Holy Sword Galatine - 8 Turns
Rebound off enemies and dance across the battlefield.
Bump Combo
Tag Laser XL (29952)
Fires a massive elemental laser in the bumping monster's direction of travel.

To Asc

Mosquito (2)
Alraune (3)
Strengths
Very effective against Paladin Bosses and powerful Bump Combo procs it
Pierce Sling to guarantee hits onto Bosses
Weakness
Hard to position for Bump Combo
Ableberries
Sidekick - Increase damage of Tag Laser that procs Slayer
Class Kinstrength - Increase damage dealt to Paladin enemies
Viable Quests

Impossibles/Colossals: Daikokuten | Mag Mell


Fire:


Water:


Wood: Kevin Verdure Gigamantis


Light: Vishnu | Cardinal Richelieu


Dark:

Tower:

Temple: Fire (Carnage) | Fire (Trial) | Wood (Carnage)
Vengeful Knight Gawain (Ascension)
JP Name
復讐の騎士 ガウェイン
JP #
2451
Class
Paladin
Element
Gender
-
Rarity
-

Sling
Bounce
Max Luck
99
Type
Power
Rating
-
Ability
Null Wind / Weak Point Slayer
Gauge
Null Warp
HP
20994 (+4200) = 25194
Obtain
-
ATK
26240 (+3875) = 30115 (36138 w/ Gauge)
SPD
173.57 (+26.35) = 199.92
Luck Skill
Badge
Strike Shot
Unyielding Chivalry - 8 Turns
Bashes the first contacted enemy and attacks with a laser.
Bump Combo
Tag Laser XL (29952)
Fires a massive elemental laser in the bumping monster's direction of travel.

Sub Bump

To Evo

15 Red Sharls
30 Red Stoans
90 Maxstoans
Strengths
8 Turn Bash SS to position for his powerful Bump Combo that procs Slayer
Weakness
Low physical damage due to low SPD
Ableberries
Sidekick - Increase damage of Tag Laser that procs Slayer
Class Kinstrength - Increase damage dealt to enemies
Viable Quests

Impossibles/Colossals: Kushinada | Kushinada: Zero


Fire:


Water:


Wood: Bell Joya 108 | Diaochan | Zhang Jiao | Jiraiya | Tokugawa Yoshinobu | Issun | Medusa | Oragon TV-chan | Itsuki


Light:


Dark:

Tower: 37F

Temple: Wood (Time) | Wood (Carnage)
Ad blocker interference detected!
Wikia is a free-to-use site that makes money from advertising. We have a modified experience for viewers using ad blockers

Wikia is not accessible if you've made further modifications. Remove the custom ad blocker rule(s) and the page will load as expected.