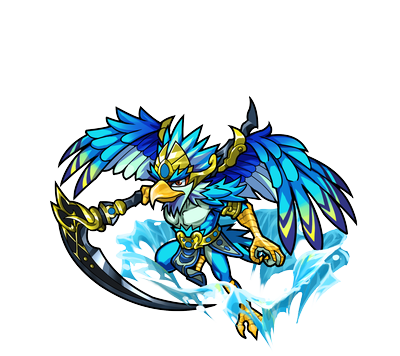 JP Name
-
JP #
707
Class
Etherean
Element
Gender
-
Rarity
-

Sling
Bounce
Max Luck
72
Type
Speed
Rating
-
Ability
Flight
Gauge
-
HP
6902 (+1400) = 8302
Obtain
-
ATK
8677 (+825) = 9502
SPD
240.27 (+23.80) = 264.07
Luck Skill
-
Badge
Strike Shot
Garuda's Mana - 22 Turns
Unleashes the power of the divine bird to increase Speed.
Bump Combo
Spread Shot L2 (1722)
Fires two 16-way sprays of large elemental bullets.

To Evo

1 Blue Sharl
5 Blue Stoans
10 Maxstoans
30 Stoans

Material For

Kali
Parvati
Krishna
Vishnu
Bird Divinity Garuda (Evolution)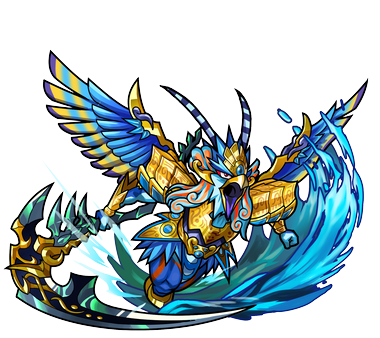 JP Name
-
JP #
708
Class
Etherean
Element
Gender
-
Rarity
-

Sling
Bounce
Max Luck
90
Type
Speed
Rating
-
Ability
Flight
Gauge
Vivolith Slayer
HP
12078 (+2460) = 14538
Obtain
-
ATK
9148 (+3100) = 12248 (14697 w/ Gauge)
SPD
280.77 (+98.60) = 379.37
Luck Skill
-
Badge
Strike Shot
Longing for Amrita - 22 Turns
Increases Attack with each rebound off a wall.
Bump Combo
Spread Shot XL3 (2009)
Fires three 16-way sprays of massive elemental bullets.
Strengths
SS synergizes well with his high SPD
Weakness
Heroes of the Vedas Series

Hatcher Monsters

Brahma

Kali

Parvati

Hanuman

Chandra
Drop Monsters

Agni

Garuda

Kamadeva

Vishnu

Krishna
[Savage] Guide
[Savage] Guide
[Savage] Guide
[Extreme] Guide
[Extreme] Guide
Ad blocker interference detected!
Wikia is a free-to-use site that makes money from advertising. We have a modified experience for viewers using ad blockers

Wikia is not accessible if you've made further modifications. Remove the custom ad blocker rule(s) and the page will load as expected.