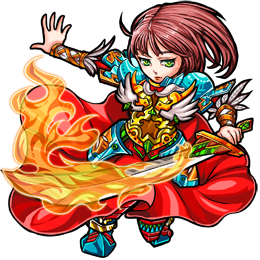 JP Name
ガラハッド
JP #
282
Class
Paladin
Element
Gender
Female
Rarity
4★

Sling
Pierce
Max Luck
72
Type
Speed
Rating
-
Ability
Shield Breaker
Gauge
-
HP
6165 (+1400) = 7565
Obtain
Hatcher
ATK
6765 (+1280) = 8045
SPD
351.03 (+33.32) = 384.35
Luck Skill
-
Badge
Strike Shot
祝福の聖十字 - 11 Turns
Uses a holy knight's power to greatly increase speed.
Bump Combo
Spread Shot L2 (1722)
Fires two 16-way sprays of large elemental bullets.

To Evo

1 Red Sharl
5 Red Stoans
10 Maxstoans
30 Stoans
Galahad the Pure (Evolution)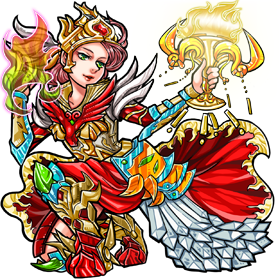 JP Name
純真なる騎士 ガラハッド
JP #
283
Class
Paladin
Element
Gender
Female
Rarity
5★

Sling
Pierce
Max Luck
90
Type
Speed
Rating
-
Ability
Shield Breaker
Gauge
-
HP
10764 (+2460) = 13224
Obtain
Evolution
ATK
11681 (+2240) = 13921
SPD
388.30 (+39.10) = 427.40
Luck Skill
-
Badge
Strike Shot
騎士は浄い手にて穢れず - 12 Turns
Uses a holy knight's peerless power to massively increase Speed.
Bump Combo
Spread Shot XL3 (2009)
Fires 3 16-way sprays of massive elemental bullets.
Strengths
Weakness
No Null Abilities
Low HP and ATK
Paladin Series

Hatcher Monsters

Galahad

Lancelot

Merlin

Arthur

Tristan
Drop Monsters

Mordred

Lot

Cormoran

Emerald Dragon

Morgan
[Extreme] Guide
[Savage] Guide
[Savage] Guide
[Extreme] Guide
[Savage] Guide
Ad blocker interference detected!
Wikia is a free-to-use site that makes money from advertising. We have a modified experience for viewers using ad blockers

Wikia is not accessible if you've made further modifications. Remove the custom ad blocker rule(s) and the page will load as expected.