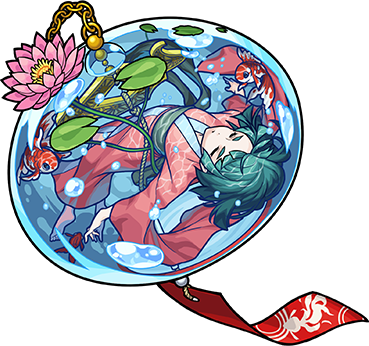 JP Name
-
JP #
2245
Class
Mancer
Element
Gender
-
Rarity
-

Sling
Bounce
Max Luck
90
Type
Balanced
Rating
-
Ability
Null Gravity Barrier
Gauge
-
HP
12974 (+0) = 12974
Obtain
-
ATK
13418 (+0) = 13418
SPD
260.8 (+0) = 260.8
Luck Skill
-
Badge
Strike Shot
Muddy Tones - 18 Turns
Increases Speed.
Bump Combo
Energy Circle S (5412)
Fires a small elemental sphere of energy.

To Evo

1 Divine Sharl
5 Red Sharls
10 Red Stoans
30 Maxstoans
Furin, Whisper of Purification (Evolution)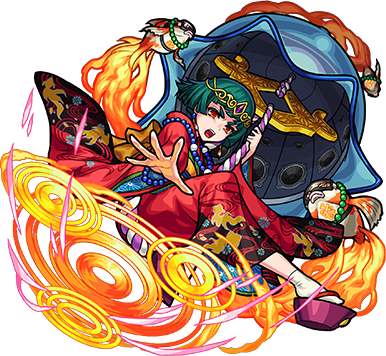 JP Name
-
JP #
2246
Class
Mancer
Element
Gender
-
Rarity
-

Sling
Bounce
Max Luck
99
Type
Balanced
Rating
-
Ability
Null Gravity Barrier
Gauge
Null Block
HP
15186 (+3900) = 19086
Obtain
-
ATK
14909 (+5100) = 20009 (24011 w/ Gauge)
SPD
273.53 (+96.90) = 370.43
Luck Skill
Badge
Strike Shot
Bells in the Breeze - 18 Turns
Sends the first contacted enemy flying and restores HP.
Bump Combo
Energy Circle M (9471)
Fires a medium-sized elemental sphere of energy.
Strengths
Energy Circle M for damage
Weakness
SS heals for 20000 but deals little damage
Low stats
Viable Quests

Impossibles/Colossals: Tsukuyomi: Zero


Fire:


Water:


Wood: Poltergeist | Wen Zhong | Pencil Base | Fellmane | Reindeera


Light: Pine | Orochimaru | Scyllara


Dark: Lady Rokujo | Dark Wyrm

Tower:

Temple:
Ad blocker interference detected!
Wikia is a free-to-use site that makes money from advertising. We have a modified experience for viewers using ad blockers

Wikia is not accessible if you've made further modifications. Remove the custom ad blocker rule(s) and the page will load as expected.