JP Name
始皇帝
JP #
1701
Class
Demihume
Element
Gender
Female
Rarity
5★

Sling
Bounce
Max Luck
90
Type
Balanced
Rating
-
Ability
Demon Slayer M
Gauge
-
HP
14398 (+0) = 14398
Obtain
ATK
12425 (+0) = 12425
SPD
236.97 (+0) = 236.97
Luck Skill
-
Badge
-
Strike Shot
A Ruler's Determination - 12 Turns
Increases Speed.
Bump Combo
Spread Shot XL3 (2812)
Fires three 16-way sprays of massive elemental bullets.

To Evo

1 Divine Sharl
5 Blue Sharls
10 Blue Stoans
30 Maxstoans

To Asc

Gilles de Rais (3)
Ivan the Terrible (2)
Emperor Caracalla (1)
Salome (1)

Material For

Diamond
Gilles de Rais
Recommended Form - Evolution
16 Turn Command SS
Very strong in Avalon
First Empress, Guardian of Dragons (Evolution)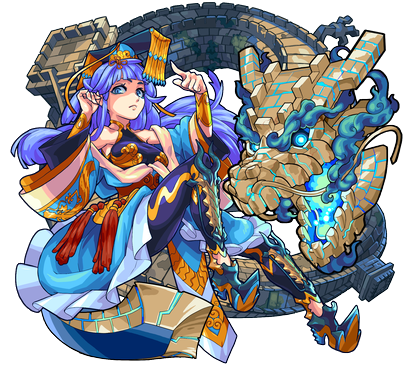 JP Name
万里の蒼龍 始皇帝
JP #
1702
Class
Dragon
Element
Gender
Female
Rarity
6★

Sling
Bounce
Max Luck
99
Type
Balanced
Rating
6.5
Ability
Demon Slayer M
Gauge
Null Warp
HP
18570 (+3900) = 22470
Obtain
Evolution
ATK
14410 (+4925) = 19335 (23202 w/ Gauge)
SPD
224.07 (+79.05) = 303.12
Luck Skill
Badge
Strike Shot
Writhing Wyrmwall - 16 Turns
Leads teammates against the enemy.
Bump Combo
Spread Shot XL3 (2812)
Fires three 16-way sprays of massive elemental bullets.

To Asc

Gilles de Rais (2)
Ivan the Terrible (1)
Emperor Caracalla (1)
Salome (1)
Strengths
16 Turn Command SS, can be used twice in a run
Effective against Demon enemies, especially mobs
Weakness
Viable Quests

Impossibles/Colossals: Avalon | Izanagi: Zero | Akasha


Fire: Wyatt Earp | Figcel | Fire Noel | Captain Mica | Daisy | Zetton | Gremory


Water: Kraken | Shubert | Younger Toguro


Wood:


Light: Ghoulie | Hakwa | Fenrir | Scyllara | Typhon


Dark: Geppetto | Necalli

Tower:

Temple:
First Empress, Supreme Ruler of Qin (Ascension)
JP Name
秦 始皇帝
JP #
1703
Class
Mancer
Element
Gender
Female
Rarity
6★

Sling
Bounce
Max Luck
99
Type
Balanced
Rating
6.0
Ability
Null Warp
Gauge
Null Block
HP
17935 (+4200) = 22135
Obtain
Ascension
ATK
15735 (+5375) = 21110 (25332 w/ Gauge)
SPD
232.67 (+81.6) = 314.27
Luck Skill
Badge
Strike Shot
Terracotta Quota - 15 Turns
Bashes the first contacted enemy and attacks with a spread shot.
Bump Combo
Spread Piercer XL3 (2812)
Fires three 16-way sprays of massive elemental pass-through shots.

Sub Bump

To Evo

15 Blue Sharls
30 Blue Stoans
90 Maxstoans
Strengths
Weakness
SS and Bump Combo does low damage
Viable Quests

Impossibles/Colossals: Arcadia


Fire: Wyatt Earp | Daisy | Gremory | Captain Mica


Water: Koalius


Wood:


Light: Typhon | Scyllara


Dark:

Tower:

Temple:
Ad blocker interference detected!
Wikia is a free-to-use site that makes money from advertising. We have a modified experience for viewers using ad blockers

Wikia is not accessible if you've made further modifications. Remove the custom ad blocker rule(s) and the page will load as expected.