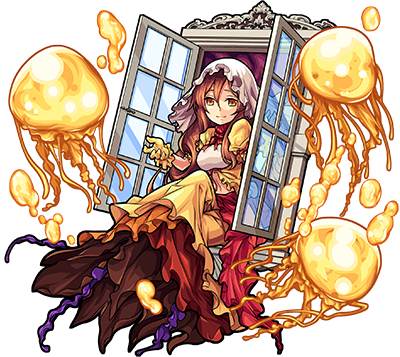 JP Name
-
JP #
1934
Class
Demon
Element
Gender
-
Rarity
-

Sling
Bounce
Max Luck
90
Type
Speed
Rating
-
Ability
Null Damage Wall
Gauge
-
HP
14757 (+0) = 14757
Obtain
-
ATK
15738 (+0) = 15738
SPD
249.27 (+0) = 249.27
Luck Skill
-
Badge
Strike Shot
Phantasmic Allure - 12 Turns
Increases Speed.
Bump Combo
Homing Piercer 6 (1702)
Randomly targets foes with 6 elemental pass-through shots.

To Evo

1 Divine Sharl
5 Light Sharls
10 Light Stoans
30 Maxstoans
Phantom Demon Farfarello (Evolution)
JP Name
-
JP #
1935
Class
Demon
Element
Gender
-
Rarity
-

Sling
Bounce
Max Luck
99
Type
Speed
Rating
-
Ability
Null Damage Wall
Gauge
Beast Slayer
HP
17026 (+3900) = 20926
Obtain
-
ATK
13488 (+4600) = 18088 (21705 w/ Gauge)
SPD
266.5 (+94.35) = 360.85
Luck Skill
Badge
Strike Shot
Deep Water Disperazione - 18 Turns
Increases Speed and Strength.
Bump Combo
Homing Piercer 8 (1702)
Randomly targets foes with 6 elemental pass-through shots.
Strengths
Effective against Beast enemies who are in Dragon Gem Quests
Homing Piercer 8 for mob clearing or hits for scorpions
Weakness
Low ATK
Hard to get optimal damage with SS
Viable Quests

Impossibles/Colossals:


Fire:


Water:


Wood: Gigabeast Fighters


Light:


Dark: Kamaitachi | Da Vinci | Dong Zhuo | Spookat | Sephiroth

Tower:

Temple:
Ad blocker interference detected!
Wikia is a free-to-use site that makes money from advertising. We have a modified experience for viewers using ad blockers

Wikia is not accessible if you've made further modifications. Remove the custom ad blocker rule(s) and the page will load as expected.