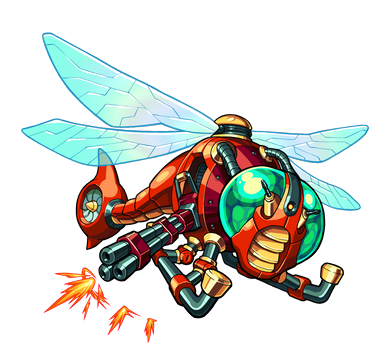 JP Name
-
JP #
1569
Class
Mech
Element
Gender
-
Rarity
-

Sling
Bounce
Max Luck
72
Type
Balanced
Rating
-
Ability
Flight
Gauge
-
HP
6820 (+1400) = 8220
Obtain
-
ATK
7018 (+675) = 7693
SPD
238.00 (+23.80) = 261.80
Luck Skill
-
Badge
Strike Shot
Gatling Plumes - 18 Turns
Launches a pulse attack in the targeted direction.
Bump Combo
Spread Shot L2 (1722)
Fires two 16-way sprays of large elemental bullets.

To Evo

1 Red Sharl
5 Red Stoans
10 Maxstoans
30 Stoans

Material For

Brynhildr
Sanma
Deathrain Dragonfly (Evolution)
JP Name
-
JP #
1570
Class
Mech
Element
Gender
-
Rarity
-

Sling
Bounce
Max Luck
90
Type
Balanced
Rating
-
Ability
Flight
Gauge
Demihume Slayer
HP
11818 (+2460) = 14278
Obtain
-
ATK
10614 (+3600) = 14214 (17056 w/ Gauge)
SPD
276.10 (+96.90) = 373.00
Luck Skill
-
Badge
Strike Shot
Search and Destroy - 20 Turns
Launches a pulse attack in the targeted direction.
Bump Combo
Spread Shot XL3 (2009)
Fires three 16-way sprays of massive elemental bullets.
Strengths
High SPD for a Balanced type
Weakness
Bump Combo or SS does not proc his Slayer
Ad blocker interference detected!
Wikia is a free-to-use site that makes money from advertising. We have a modified experience for viewers using ad blockers

Wikia is not accessible if you've made further modifications. Remove the custom ad blocker rule(s) and the page will load as expected.