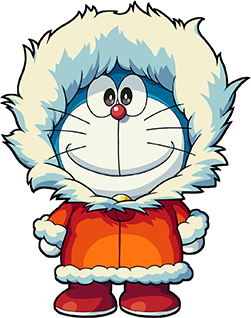 JP Name
-
JP #
2522
Class
Mech
Element
Gender
-
Rarity
-

Sling
Pierce
Max Luck
90
Type
Balanced
Rating
-
Ability
Null Damage Wall
Gauge
-
HP
13995 (+0) = 13995
Obtain
-
ATK
12351 (+0) = 12351
SPD
265.50 (+0) = 265.50
Luck Skill
-
Badge
Strike Shot
お腹いっぱいかき氷を食べよう - 12 Turns
Increases Speed.
Bump Combo
Mega Blast (7653)
Attacks with a very large, non-elemental blast around the user.

To Evo

1 Divine Sharl
5 Blue Sharls
10 Blue Stoans
30 Maxstoans
Antarctic Explorer Doraemon (Evolution)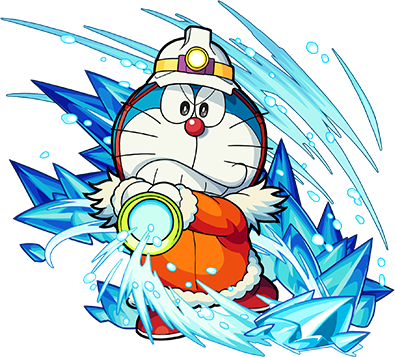 JP Name
-
JP #
2523
Class
Mech
Element
Gender
-
Rarity
-

Sling
Pierce
Max Luck
99
Type
Balanced
Rating
-
Ability
Null Damage Wall
Gauge
Null Block
HP
18568 (+3900) = 22468
Obtain
-
ATK
15014 (+5125) = 20139 (24167 w/ Gauge)
SPD
259.23 (+91.80) = 351.03
Luck Skill
Badge
Strike Shot
急速冷灯!! - 20 Turns
Explodes on first enemy contact and does a lot of damage to all foes in the vicinity.
Bump Combo
Giga Blast (7499)
Attacks with a massive, non-elemental blast around the user.
Strengths
2 Nulls
SS does high AOE damage
Support Bump Combo
Weakness
Viable Quests

Impossibles/Colossals: Ashura | Arcadia


Fire: Taki Rentaro | Fortuna | Shen Gongbao


Water:


Wood:


Light: Dance Lion | Sphinx | Cabaletta | Scyllara | Pine | Yuan Shao


Dark: Pharaoh | Kamaitachi | Dong Zhuo

Tower: 36F

Temple:
Japanese Collaboration - Monster Strike x Doraemon (Ended)
Ad blocker interference detected!
Wikia is a free-to-use site that makes money from advertising. We have a modified experience for viewers using ad blockers

Wikia is not accessible if you've made further modifications. Remove the custom ad blocker rule(s) and the page will load as expected.