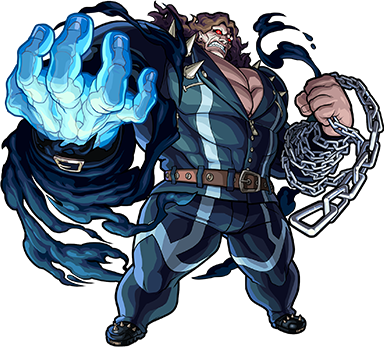 JP Name
ドゥーム
JP #
2169
Class
War God
Element
Gender
Male
Rarity
5★

Sling
Pierce
Max Luck
90
Type
Power
Rating
-
Ability
Null Warp
Gauge
-
HP
19147 (+0) = 19147
Obtain
ATK
24331 (+0) = 24331
SPD
149.37 (+0) = 149.37
Luck Skill
-
Badge
-
Strike Shot
破滅をもたらす凶腕 - 12 Turns
Increases Speed.
Bump Combo
Horizon Laser L (7954)
Attacks horizontally with a large elemental laser.

To Evo

2 Divine Sharls
10 Blue Sharls
20 Blue Stoans
60 Maxstoans

Material For

Penglai
Doom, Tide of War (Evolution)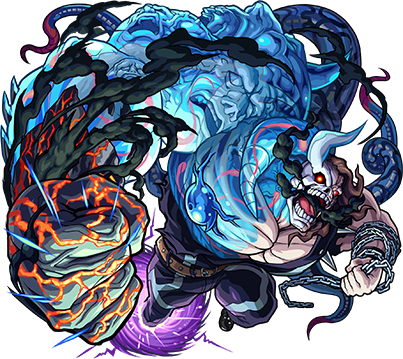 JP Name
水の闘神 ドゥーム
JP #
2170
Class
War God
Element
Gender
Male
Rarity
6★

Sling
Pierce
Max Luck
99
Type
Power
Rating
6.5
Ability
Mine Sweeper M
Gauge
Null Warp
HP
18601 (+3900) = 22501
Obtain
Evolution
ATK
22928 (+7850) = 30778 (36934 w/ Gauge)
SPD
170.17 (+60.35) = 230.52
Luck Skill
-
Badge
-
Strike Shot
ドゥームズデイ・ジャッジメント - 20 Turns
Unleashes flares on every enemy contact.
Bump Combo
Horizon Laser XL (20680)
Attacks horizontally with a massive elemental laser.
Strengths
Mine Sweeper M + Null Warp
SS has a pretty high chance of stunning the enemy
Weaknesses
Power type
Bump combo needs positioning
Viable Quests

Impossibles/Colossals: Izanami: Zero | Yamato Takeru: Zero


Fire: Grey Alien


Water: Princess Iron Fan | First Empress


Wood:


Light: Vishnu


Dark: Satellite | Honda Tadakatsu

Tower:

Temple: Fire (Carnage) | Fire (Time) | Water (Time) | Water (Carnage)
Impossibles

1st Round

Izanami
[Guide]

Yamato Takeru
[Guide]

Kushinada
[Guide]

Izanagi
[Guide]

Tsukuyomi
[Guide]
2nd Round

Ashura
[Guide]

Bishamonten
[Guide]

Marishiten
[Guide]

Daikokuten
[Guide]

Acala
[Guide]
Zero

Izanami: Zero
[Guide]

Yamato: Zero
[Guide]

Kushinada: Zero
[Guide]

Izanagi: Zero
[Guide]

Tsukuyomi: Zero
[Guide]
War Gods

Nirvana
[Guide]

Doom
[Guide]

Memento Mori
[Guide]

Karma
[Guide]

Akasha
[Guide]
3rd Round

Cain
[Guide]

Lu Bu
[Guide]

Brutus
[Guide]
Ad blocker interference detected!
Wikia is a free-to-use site that makes money from advertising. We have a modified experience for viewers using ad blockers

Wikia is not accessible if you've made further modifications. Remove the custom ad blocker rule(s) and the page will load as expected.